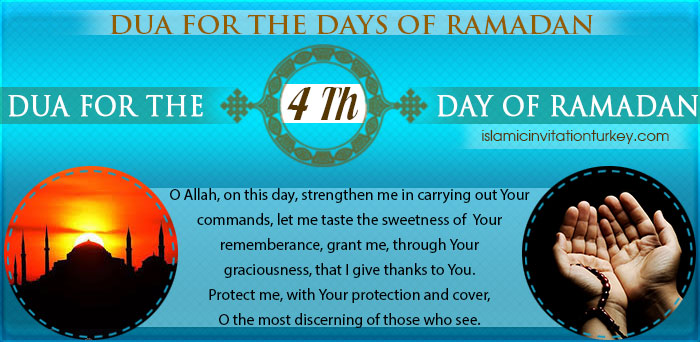 اَللّـهُمَّ قَوِّني فيهِ عَلى اِقامَةِ اَمْرِكَ، وَاَذِقْني فيهِ حَلاوَةَ ذِكْرِكَ، وَاَوْزِعْني فيهِ لاَِداءِ شُكْرِكَ بِكَرَمِكَ، وَاحْفَظْني فيهِ بِحِفْظِكَ وَسَتْرِكَ، يا اَبْصَرَ النّاظِرينَ.
"Allahumme gavvinî fîhi alâ igameti emrik ve ezignî fîhi halâvete zikrik ve evzi'nî fîhi li-edâi şukrik bi-keramik vehfeznî fîhi bi-hifzike ve sitrik, ya ebsar'an-nâzirîn."
O Allah, on this day, strengthen me in carrying out Your commands, let me taste the sweetness of Your rememberance, grant me, through Your graciousness, that I give thanks to You. Protect me, with Your protection and cover, O the most discerning of those who see.