Iran
North America
Range of Iranian missiles enough to target US forces in case of invasion: IRGC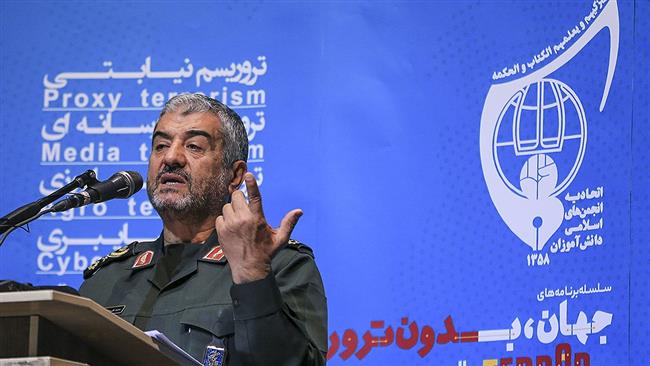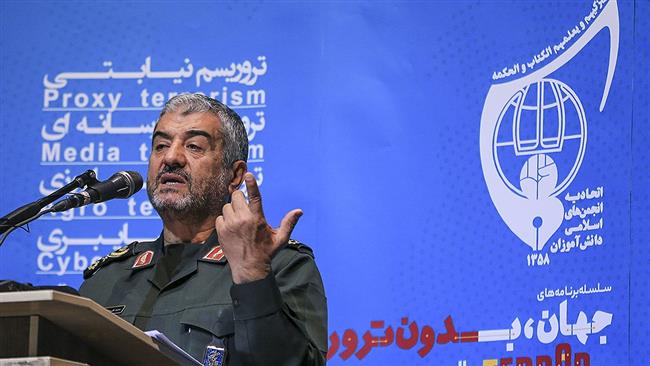 The chief commander of the Islamic Revolution Guards Corps (IRGC) says there is currently no need for Iran to extend the range of its missiles, which is enough to strike the American forces deployed to the region in case of any US aggression against the country.
During a Tuesday conference titled 'A World Without Terror' in Tehran, Major General Mohammad Ali Jafari said Iranian missiles have currently a range of up to 2,000 kilometers based on the limits set by Leader of the Islamic Revolution Ayatollah Seyyed Ali Khamenei.
"There is the capability to increase this range, but it is sufficient for now as the Americans are present within a 2,000-kilometer radius around the country, and would get a response in the case of any invasion," he said.
The senior general, however, said "the Americans fear the consequences of a war with Iran, and are well aware that they would be the losers if such a war breaks out."
Jafari further pointed to US attempts to undermine Iran's national missile program through sanctions and economic pressure on the country, stressing, however, that such hostile measures cannot break the Iranian nation's resistance.
Last week, the US House of Representatives voted to impose new sanctions on Iran over its national ballistic missile program. To become law, the bill would have to pass the US Senate and be signed into law by President Donald Trump.
In recent years, Iran has recently made major breakthroughs in its defense sector and attained self-sufficiency in producing important military equipment and hardware.
The Islamic Republic says its military power poses no threat to other countries and is merely based on the doctrine of deterrence.