Syria
Raqqa: Tens of ISIL Oil Tankers Destroyed in Syrian Army Attack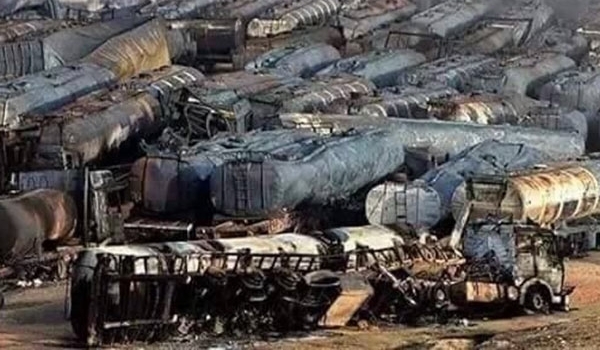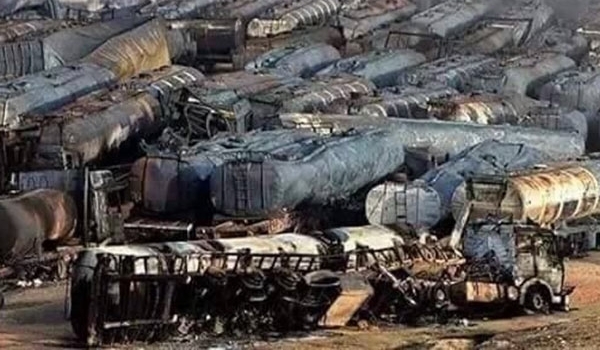 Syrian Army troops targeted ISIL's fuel convoy in Raqqa province, demolishing most of the tankers as the terrorists are sustaining growing loss and damage in the illegal trade of black gold in Syria.
82 fuel tankers of ISIL were destroyed in the Syrian army unit's operation in Be'r al-Obeid district in the Eastern side of Raqqa.
In recent months, the Syrian and Russian air campaign has destroyed a large number of oil extraction, refining and pumping facilities in the territories controlled by terrorists in Syria, as well as thousands of tanker trucks used to deliver the oil products.
The terrorists have lost their main source of revenues from the illegal sale of oil, which, in turn, has limited their possibilities for the purchase of armaments, ammunition and the provision of money allowance to Takfiri militants.
A French fact-finding committee said on July in a report that the ISIL terrorist group has been facing very bad financial situation in 2016, while the number of its forces has been continuously decreasing in the recent months too.
"In 2015, the ISIL terrorist group earned over $3bln in Iraq and Syria, including $600mln from exports of crude oil and $300mln from gas, but after the ISIL-held regions, specially energy-rich regions, shrank the group faced sharp decline in its revenues," the report, carried out by 60 journalists and activists, said.
"The ISIL had to find new sources of income. Trafficking of drugs, smuggling of historical monuments, looting museums, imposing high taxes on consumption of water and electricity stood atop the ISIL's new resources of revenues," the report added.
"ISIL earned around 900,000,000 euros from different taxes and also 150 million of dollars from trade of cigarettes and narcotics," the report said, adding, "In the meantime, the ISIL that had around 30,000 of fighters in 2015, now in the middle of 2016 has only 12,000 combatants in the battlefields in Iraq and Syria."
A captured militant from ISIL terrorist group who spoke to Sputnik news agency in January has bolstered claims that Turkey is involved in illegal oil deals with the Takfiri group up to the hilt.
24-year-old Mahmud Ghazi Tatar had revealed details about Turkey's alleged oil links to the terrorist group.
"At the training camp in May 2015, our commander told us that the group sells fuel to Turkey. That income covers ISIL's costs. The oil trucks crossing into Turkey every day carry crude oil, as well as petrol," he said, adding that the ISIL group has enough oil to last them a long time.
"ISIL also receives lots of supplies from Turkey and Arab countries," the captured militant confirmed.
The Russian defense ministry had also announced that Turkish President Recep Tayyip Erdogan and his family members are directly involved in illegal oil deliveries from ISIL oil fields in Syria.
Turkey's leadership, including President Erdogan and his family, is involved in illegal oil trade with ISIL militants, the Russian Defense Ministry had said, stressing that Turkey is the final destination for oil smuggled from Syria and Iraq.
Satellite and drone images showed hundreds and hundreds of oil trucks moving from ISIL-held territory to Turkey to reach their destination at Turkish refineries and ports controlled by Turkish president's family.