World News
Reckless Sri Lanka officials face scrutiny over potential security failure after bombings
As Sri Lankans are mourning the death of 290 people in a string of recent bombings, officials have come under scrutiny over accusations that they failed to prevent the carnage despite security warnings that they had reportedly received several days ahead of the attacks.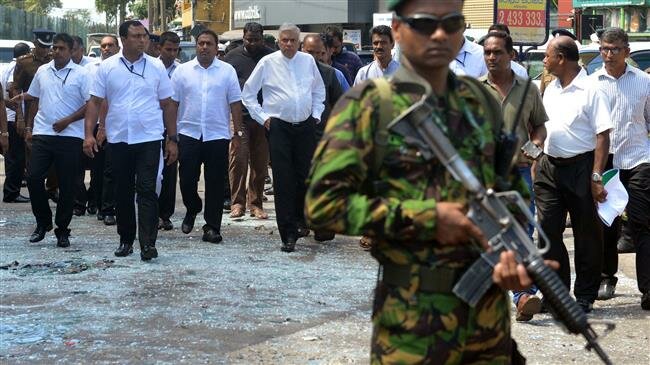 The country was shocked on Easter Sunday after eight apparently coordinated blasts hit churches and luxury hotels in the capital, Colombo, and the cities of Negombo and Batticaloa.
On Tuesday, the nation began a day of national mourning with three minutes of silence to honor the 290 victims. The silence began at precisely 8:30 am (0300GMT), the moment that the first of eight bombs detonated on Sunday morning.
"It is imperative that we remain unified as Sri Lankans in the face of this unspeakable tragedy," Prime Minister Ranil Wickremesinghe said in a tweet.
The Sri Lankan prime minister said they were observing a day to "mourn the senseless loss of innocent lives."
The government also lowered national flags to half mast on its buildings.
'Colossal failure of intelligence'
Meanwhile, police in Sri Lanka had reportedly received a series of warnings about possible attacks on churches and tourist spots this month.
According to an intelligence report seen by Reuters, the warnings had been made by a foreign intelligence agency.
The document said the Defense Ministry had informed the Inspector General of Police of an alleged plot, and named a small group, known as the Nations Thawahid Jaman (NTJ) as the suspect.
The group, which has no history of large-scale attacks, was named by a government spokesman as the main suspect on Monday.
The document said security agencies had been watching the group and had notified police about it.
Neither the NTJ nor any other group has so far claimed responsibility for the bombings.
This is expected to cause a rift between the prime minister and President Maithripala Sirisena, who have been engaged in an intense animosity that led to a constitutional crisis last year.
'It is shameful for all of us!'
The prime minister said neither he nor his cabinet ministers were informed about the warnings. Ministers, who also confirmed that they were not informed, believe the carnage occurred due to a "colossal failure of intelligence."
"It is shameful for all of us. We are all ashamed of this," said Rauff Hakeem, the minister for town planning.
Telecommunications Minister Harin Fernando also tweeted, "Some intelligence officers were aware of this incidence."
It was not immediately known if the president had been made aware of the warnings, but Shiral Lakthilaka, a senior adviser to him, said that the intelligence was "correctly circulated among security and police."
The president has appointed a special committee led by a Supreme Court judge to investigate the matter.
Last October, the president ousted Wickremesinghe and tried to replace him with Mahinda Rajapaksa, a former president. Wickremesinghe's government was eventually reinstated by the Supreme Court, but tensions still remain.
Sri Lanka's ousted PM resists presidential eviction orderSri Lanka's sacked prime minister, Ranil Wickremesinghe, ignores a presidential order to step down and evict his official residence.
Sri Lanka has a population of about 22 million people, 70 percent of whom are Buddhist, 13 percent Hindu, 10 percent Muslim, and seven percent Christian, according to the country's 2012 census.
The South Asian country is reeling from a 26-year civil war that ended in 2009 with an estimated 100,000 deaths. The strife was mainly between the so-called Tamil Tigers and the Sri Lankan government, and ended when government forces defeated the rebels.
Authorities are now concerned that a new spate of violence could start.
The government has meanwhile said it will invoke the emergency law from midnight Tuesday to give police extensive powers to detain and interrogate suspects without court orders.