Iran
Middle East
Region needs collective efforts to establish inclusive dialogue, security networking: Iran FM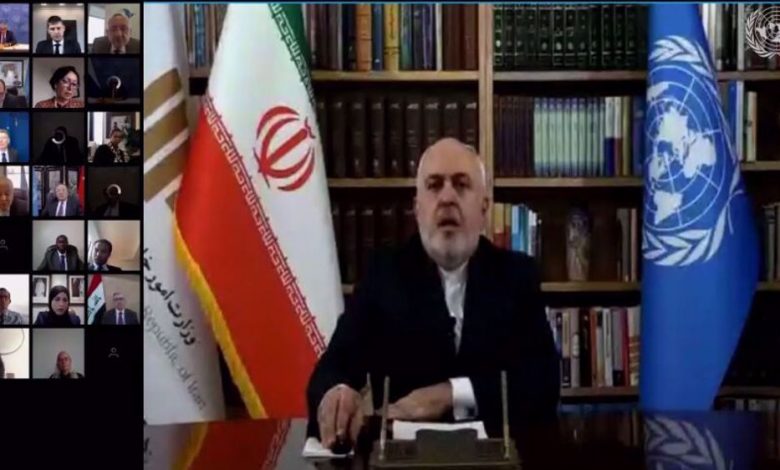 The Iranian foreign minister has stressed the importance of implementing Tehran's peace initiative to promote security in the Persian Gulf, dubbed Hormuz Peace Endeavor (HOPE), calling for collective cooperation among neighbors to establish "inclusive dialogue and security networking" in the region.
Mohammad Javad Zarif made the remarks in an address to a virtual debate of the United Nations Security Council under the title "Maintenance of International Peace and Security: Comprehensive Review of the Situation in the Persian Gulf" on Tuesday.
"Security is contingent on a reliance on our own peoples and cooperation with our own neighbors. We need collective efforts by regional countries to establish inclusive dialogue and security networking in this region," the Iranian foreign minister said.
"Otherwise, we will all be engulfed in turmoil for generations to come," he added, warning that turmoil in the region "will be everyone's turmoil."
He said the most sophisticated weaponry can be purchased by money but "security and stability can never be bought."
Addressing a speech at the UN General Assembly meeting in September 2019, Iranian President Hassan Rouhani presented the HOPE initiative and invited all regional countries to participate in it.
The Iranian foreign minister further emphasized Tuesday that the region is in need of a "fundamental paradigm shift" and said, "We need a strong region that precludes hegemonic illusions by any power— regional or global. [We need] a strong region that requires homegrown political and territorial stability."
Zarif added that in a strong region, all neighbors would be able to exercise strategic self-restraint.
He noted that the region has been the scene of several wars, massive foreign military buildups, ensuing nightmare of extremism and terrorism, dangerous accumulation of the most sophisticated weaponry, and aggression and power projection by various actors.
He said the United States has "unsurprisingly" sold most of lethal armaments to the Persian Gulf states from 2014 to 2018, adding, "Yet, the military build-ups and hundreds of billions of dollars of arms sales have enhanced neither the security of the external powers, nor of the region."
The Iranian foreign minister stated that extra-regional actors have been trying to take advantage of regional disparities, unending rivalries, and new hegemonic illusions as opportunities to expand their military presence and to sell more weapons.
"The US has deployed nearly 50,000 troops in the Persian Gulf region in 29 military installations with more than 300 combat aircraft," he noted.
He emphasized that foreign forces have for too long come to the region only to project their power and not to protect regional nations.
Zarif pointed to the main objectives of HOPE and said it aims to ensure peace, stability and prosperity in the region, promote mutual understanding and peaceful relations among all the Persian Gulf states, ensure the territorial integrity and inviolability of international boundaries of all Persian Gulf littoral states, cooperate in eradicating terrorism, extremism and sectarian tensions across the region, promote peaceful resolution of all regional tensions and conflicts through enhanced communication and early warning and ensure the freedom of navigation and energy security for all.
The top Iranian diplomat proposed adherence to common principles such as dialogue and mutual respect, equal footing, respect for each other's sovereignty, rejection of the threat or use of force, non-aggression and non-intervention in the internal affairs of each other and rejection of participation in alliances and coalitions against one another to achieve such goals.
"We believe that a new regional approach should be the outcome of collective deliberations. Together, we can envisage a broad spectrum of cooperation and confidence-building measures that include water management, environmental protection, nuclear safety, energy security, education, tourism, economic cooperation, trade, investment, poverty eradication and people empowerment," he said.
He added that all the Persian Gulf littoral states can agree on regional early warning systems and on military contacts and to establish joint task forces regarding practical measures to gradually expand cooperation.
Zarif warned that peace and dialogue cannot be achieved if one or two regional countries pursue confrontation and wishfully wait for alien vampires to "cut their neighbor's head."
He finally told regional states that they can "choose to remain prisoners of the past and perpetuate instability and tension. Or …can choose peace, security, stability and prosperity for all."