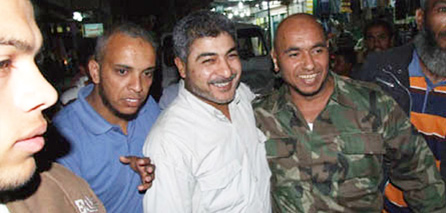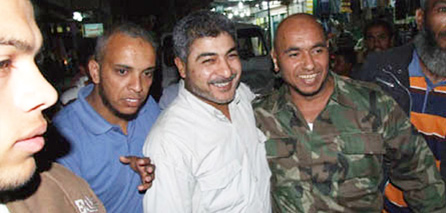 Zionist occupation authorities released on Monday afternoon 22/11/2010, the detainee Mutair Farhood Abu Khubeiza from Nusseirat refugee camp in central Gaza Strip, after he was sentenced for eight and a half years.
The central governorate of Gaza strip out to congratulate the detainee on "Erez" crossing near Beit Hanoun, the Palestinian public rally took him to his home.
Immediately after his arrival to Nusseirat camp, he was received by the people of the camp with a mass march organized by Hamas to celebrate his release, the march has roamed the streets and neighborhoods of the camp and the people congratulated him on his release.
It should be mentioned that the Zionist occupation forces destroyed Mutair's home totally by F16 air jets during the last war on Gaza two years ago.