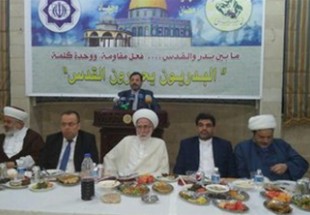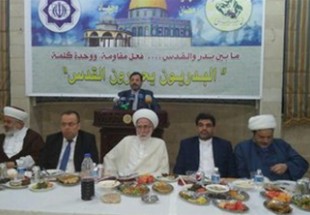 Sheikh Ahmed al Zein, prominent Lebanese cleric, counted defending Islamic values and preventing Muslim world assets to be absorbed by Zionists as the most important demands of all Muslim nations saying that religious disagreements among Muslims will perfectly serve Zionist interests, reported Taqrib News Agency (TNA).
Counting the key demands of Muslim nations, Lebanese cleric noted," All these demands are values which have been pursued by Islamic Revolution in Iran and today are perfectly stressed by the Supreme Leader Ayatollah Khamenei."
He quoted verse 92 of chapter The Prophets from holy Qur'an on necessity of Islamic unity and said this solidarity will comprise all Muslims because any disagreement among them will perfectly serve all Islamic denominations.
Head of the Society of Scholars in Lebanon stressed support of the society for Islamic unity vowing contribution of the group for the oppressed nation of Palestine.