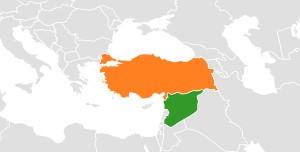 Turkish media say Ankara is evaluating the possibility of starting talks with the Syrian government and that discussions are underway for new relations to be built between the two neighbors.
Turkey's Hurriyet newspaper, citing informed sources, said on Monday that discussions were taking place in the Turkish capital of Ankara on restoring normal relations.
"The balanced policy recently adopted by Turkey and the role that Ankara has played in recent months, especially in resolving the war in Ukraine, have made the current time appropriate for resolving the Syrian crisis," the Turkish daily said.
Citing the sources, the Turkish newspaper said Ankara could turn this process in its favor if the "new phase" of relations with the UAE was considered, and that the success of this effort would lead to the return of at least half of the refugees residing in Turkey to their country.
Turkey's desire to resume relations with Syria comes at a time that there has been a thaw in Arab countries' relations with Syria in recent months, and it is likely that the suspension of Syria's membership in the Arab League will be lifted.
Turkey has been conducting an incursion against neighboring Syria's northern parts since 2016 under the pretext of fighting back against Kurdish militants known as the People's Protection Units (YPG).
So far, it has deployed thousands of troops in the areas, in what Damascus has decried as, outright violation of its sovereignty.