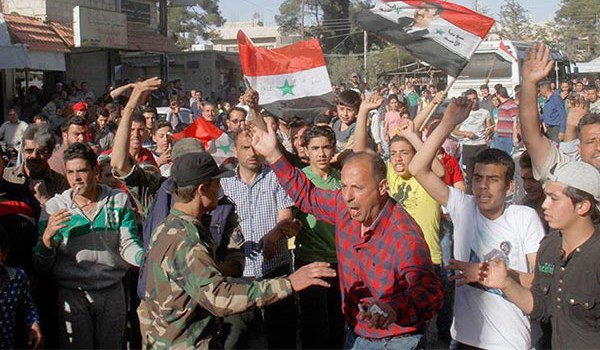 The residents of the Golan Heights held massive protest rallies against Israel's provocative move to name a town in the region after US President Donald Trump.
The rallies were held along with the general strike in the region to protest at accelerated construction of settlements in occupied regions by Israel and installation of air turbines which has troubled farming in the region.
Tens of residents of occupied Golan in the Eastern parts of the town of Majdal al-Shams held protest rallies, stressing their Arab-Syrian identity and rejecting any Israeli plans in occupied areas, including installation of air turbines.
The protestors hoisted the Syrian government flags, voicing support for the Syrian army's measures to foil internal and foreign plots.
Meantime, the local people in Quneitra province gathered in Ain al-Daqneh region to voice solidarity with the residents of the Golan Heights and protest at Israeli plots.
Israel plans to take control over 6,000 hectares of lands belonging to the residents of the region in the villages of Majdal al-Shams, Baqa'ata, Masa'adah and Ain al-Daqneh under the pretext of installation of air turbines in the farms of occupied Golan.
Israel occupied the Golan Heights from Syria in the 1967 Mideast war and annexed it in 1981. Most of the international community considers the move illegal under international law.
But during a visit to Washington by Israeli Prime Minister Benjamin Netanyahu in March, just weeks before Israeli elections, Trump signed an executive order recognizing the strategic mountainous plateau as Israeli territory. The decision, the latest in a series of diplomatic moves benefiting Israel, was widely condemned internationally.
After a cabinet decision, Netanyahu unveiled a sign trimmed in gold with the name 'Trump Heights' and adorned with US and Israeli flags.