Hassan Nasrallah
Iran
Iraq
Leaders of Ummah
Middle East
North America
Qasem Suleimani
Resistance forces across world carry task of avenging Soleimani: Sayyed Nasrallah
Secretary General of the Lebanese resistance movement Hezbollah Sayyed Hassan Nasrallah has said that resistance forces across the world bear responsibility of punishing those behind the assassination of Major General Qassem Soleimani.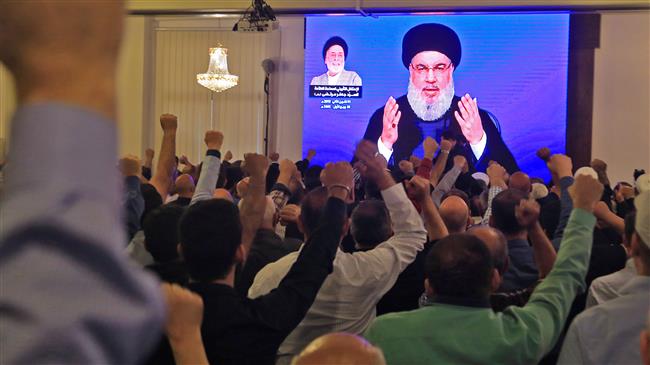 "Meting out the just punishment to these criminal assassins, which are the worst criminals of the world, will be the responsibility and task of all resistance fighters worldwide," the Hezbollah chief said in a statement on Friday.
Nasrallah added that his group will continue the path of the assassinated commander and that Washington will fail in achieving its goals with these "big crimes".
"We who stayed by his side will follow in his footsteps and strive day and night to accomplish his goals," Nasrallah said
"We will carry a flag on all battlefields and all fronts and we will step up the victories of the 'axis of resistance' with the blessing of his pure blood," he added.
The "resistance axis" is used to refer to an emerging front in the Middle East which includes Iran, Syria and other regional countries and forces such as Hezbollah, which are opposed to the US and Israeli hegemony over the region.
Nassrallah's remarks came after the IRGC confirmed earlier on Friday that Major General Soleimani, the commander of the Quds Force of the IRGC, had been assassinated in US airstrikes in Baghdad.
The attack also led to the death of Abu Mahdi al-Muhandis, the second-in-command of Iraq's Popular Mobilization Units (PMU).
Iran Leader vows 'harsh revenge' following assassination of Gen. SoleimaniLeader of the Islamic Revolution Ayatollah Seyyed Ali Khamenei says a harsh revenge will be taken against the criminals who assassinated IRGC Quds Force Commander Major General Qassem Soleimani.
Added determination to follow path of 'resistance's martyrs'
The Syrian government also condemned the attack as "a serious escalation of the situation", saying the US is resorting to "the methods of criminal gangs," SANA news agency reported.
Syria is "certain that this cowardly US aggression… will only strengthen determination to follow in the path of the resistance's martyred leaders," a foreign ministry official said.
US steps up military efforts to encircle Syria, stifle 'resistance axis': ReportThe US is engaged in a military campaign to cut off Syria from its neighbors with the aim of weakening the "resistance axis", Beirut-based al-Akhbar paper says. 
The unnamed official said the strike was "part of the (US) policy aiming to create tensions and fuel conflict in countries in the region."