Lebanon
Resistance is a must for standing against Israel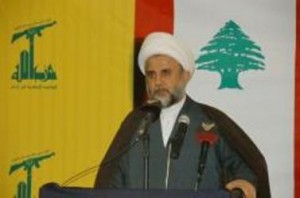 "Nowadays resistance is a national and strategic necessity for standing any movement stupid measures perpetrated by the regime of Zionism," the deputy of Executive Council President of Hezbollah, Sheikh Nabil Qaouk, reported Taqrib News Agency (TNA).
The Lebanese religious cleric counted resistance as and effective power for any nation and all the divine regions.
Sheikh Nabiel Qavoun slammed any measures running counter to national resistance and underscored the Lebanon's March 14th alliance tries to question the importance of resistance, while Zionism hatch plots against Lebanese nation.
"This movement is against such resistance but up to here, all their attempts in this area faced fiasco and went up in smoke," he mentioned.
The Lebanese religious cleric went on to say, "This coalition is just after toppling the government of Syria, turning a blind eye to the negative spillover of such event in Lebanon. "
Sheikh Nabil Qaouk outlined, "Lebanon's March 14th also tries to block the processes of forming the government in Lebanon and stand against political solutions so as to put an end to the ongoing crisis in Syria, Bahrain and Iraq.
For want of a better sentence, he underlined, "they are providing the breeding ground in a bid to fulfill the malignant aims of U.S and regime of Israel in the region."
"Resistance many times put stress on the importance of unity and solidarity and is against any extremist movement," The Lebanese face wrapped up his lines.