Resistance Says Its Word: Zionist Entity Defeated!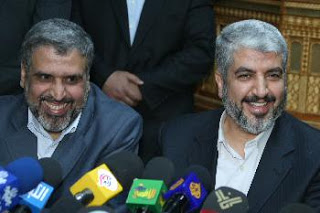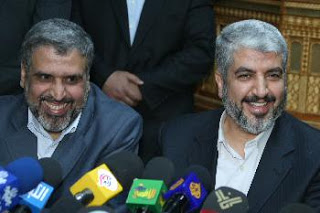 Stressing that the history of resistance is filled of memories and achievements, the head of Hamas political bureau, Khaled Meshaal, created a new term in the Israeli-Arab conflict which is the "eight-day war," referring the the eight-day offensove on Gaza and echoing the six-day war which the Zionist entity brags about.
In a joint press conference for Meshaal and the Secretary General of the Islamic Jihad, Ramadan Abdullah Shallah, the two men stressed that Gaza offensive, which lasted for eight days, was a defeat for the Zionist entity.
"What happened in Gaza is a tactical defeat for Israel," Meshaal told journalists in Cairo, adding that the Zionist entity "surrendered to the resistance despite the Israeli misleading which we will witness in the coming days."
"The results were visible on the ugly faces of the Zionist entity's leaders."
He noted that after 24 hours of the ceasefire, the discussion "to fulfill our people's demands is to take place in a bid to end the ongoing killing and blockade in Gaza."
Meshaal praised the mediation role of Egypt, which he assured behaved with high responsibility.
"We thank all who took part in the mediation of the ceasefire," he said, adding: "Egypt was open-minded to the resistance's demands."
On Iran's support for the resistance in Palestine, Meshaal said "we surely thank Iran for its support."
"Our weapon was local-made in Gaza, it was also from Iran."
"We are committed to the ceasefire if the Zionist entity is committed, or else we are ready to respond," the head of Hamas' political bureau said further.
For his part, the Islamic Jihad S.G. said that what happened in Gaza "is a real and exceptional failure for the Zionist entity."
"We have a powerful resistance. However we also have more powerful people, more powerful Ummah (nation) and more powerful Egypt," Shallah said.
As he stressed that the resistance in Gaza was in powerful position, Shallah noted that the Palestinian resistance is "committed to the ceasefire as long as the Israeli enemy is."
He also thanked Egypt for brokering the agreement.