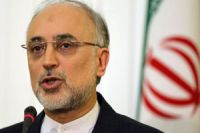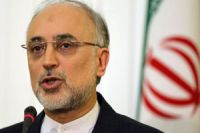 Iran's Foreign Minister Ali Akbar Salehi says the outcome of the trilateral meeting between the Islamic Republic, Egypt and Turkey on the Syrian crisis will soon be announced.
According to Press TV, Salehi said on Monday "The heads of states of Iran, Egypt and Turkey had consultations in this regard (the Syria crisis) and we arrived at good conclusions," adding, "The Egyptians are scheduled to announce the outcome of the negotiations today."
On February 7, Iran's President Mahmoud Ahmadinejad held a meeting with his Egyptian and Turkish counterparts Mohamed Morsi and Abdullah Gul to discuss the ongoing crisis in Syria and the solutions to end the unrest in the Arab country.
During the trilateral meeting in Cairo, which was held on the sidelines of the 12th summit of the Organization of Islamic Cooperation (OIC), the trio called for an immediate settlement of the crisis and an end to the bloodshed in Syria.
The Iranian top diplomat further said that the Syrian government has proposed holding a national dialog after a ceasefire takes effect between the government and opposition groups.
Referring to Iran's six-point peace plan for Syria, Salehi said that, under the proposal, violence should be stopped in the Arab country and the Syrian government and opposition groups should form a transitional government.
Meanwhile, Salehi stressed that the United Nations Secretary General Ban Ki-moon is not to make remarks to please others.
Making the statement in reaction to the recent remarks made by the UN chief, he said such an attitude will make him lose his credibility as the international body's chief and a global personality.
He also said that the UN secretary general, as an international figure, ought to express his view free of partiality. He also called on the UN chief to base his views on facts.