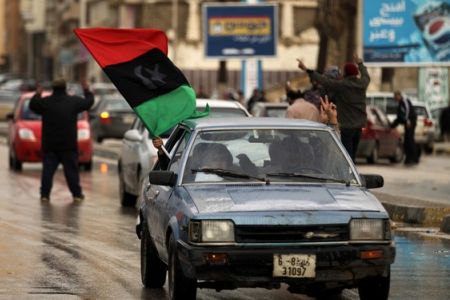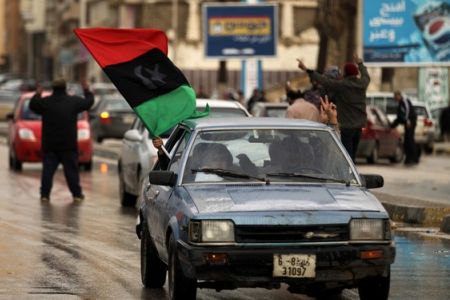 Anti-regime protesters say they have repelled an attack by forces loyal to embattled Libyan ruler Muammar Gaddafi in Zawiyah, about 50 km west of the capital, Tripoli.
Earlier on Saturday, Gaddafi forces attacked the city with armored vehicles and tanks, trying to retake it from protesters.
"They entered Zawiyah at six in the morning with heavy forces, hundreds of soldiers with tanks. Our people fought back …We have won for now and civilians are gathering in the square," Reuters quoted Youssef Shagan, the anti-regime spokesman in Zawiyah as saying.
On Friday, they used heavy artillery against protesters, killing dozens.
Fierce fighting also continues between opposition groups and regime forces in several Libyan cities.
Meanwhile, armed protesters have taken control of the oil-rich city of Ras Lanuf after heavy fighting, which reportedly left at least eight people dead.
In Benghazi, 27 people were killed and dozens more were wounded after the regime used warplanes to bomb a weapons depot near the city.
The protests have spread to Tripoli, which is Gaddafi's stronghold.
Clashes erupted in the city after Gaddafi's loyalists fired teargas to disperse demonstrators.
Meanwhile, Libya's self-declared opposition council is set to hold its first formal meeting to discuss the overthrow of Gaddafi.
The interim national council says it refuses to enter talks with the regime unless Gaddafi leaves office.
The 30-member body was established in the eastern city of Benghazi by anti-government forces following the liberation of several eastern cities.
The council, headed by Libya's former justice minister Mustafa Abdel Jalil, plans to lead the country to an election.
He was among the first high-profile Libyan figures to defect from the Gaddafi regime following the brutal crackdown on opposition protesters.