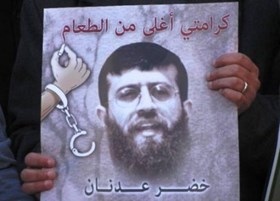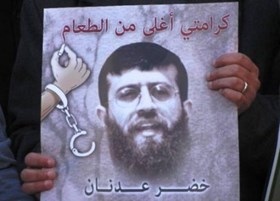 Head of the Palestinian Prisoner Society, Fares Qaddoura, on Sunday denied claims that the Palestinian hunger-striking detainee Khader Adnan, starving for 48 days running, has died.
The Prisoner Society quoted its lawyer Jawad Boulos as stating, following contacts held with the head of the Assaf Harofeh hospital, that Adnan's health has not undergone any changes.
Lawyer Boulos also spoke by phone to the judicial adviser of the Israeli prison administration who denied Adnan's death but confirmed reports on his critical health condition.
The Society called on the Palestinian masses to urgently react in support of Adnan's cause
The group warned of an imminent death to befall hunger-striking Khader Adnan sometime soon if no serious steps are made to save his life before it is too late.