Saudi Arabia
Riyadh tried to 'trap' us in overseas embassies: Saudi dissidents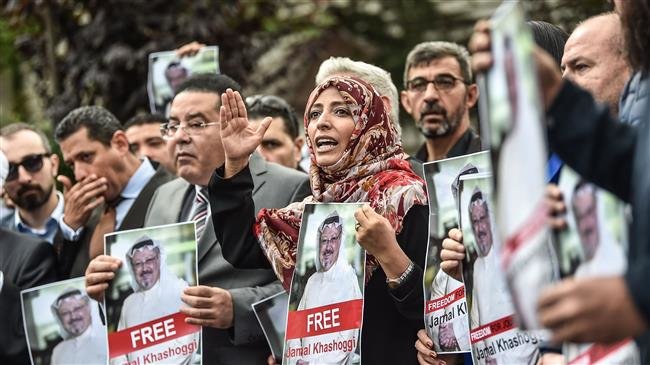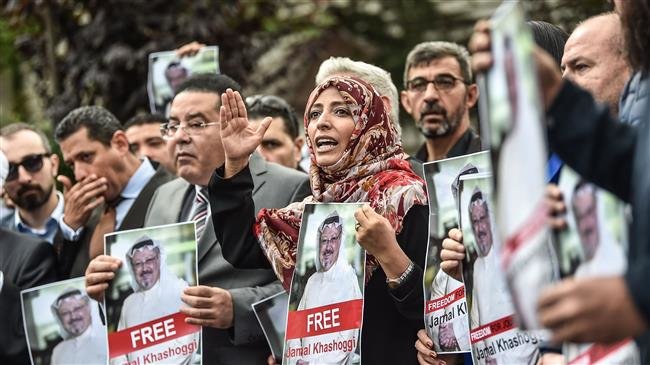 The murder of dissident Saudi journalist Jamal Khashoggi at the kingdom's consulate in Turkey's Istanbul has sent a shock wave through Saudi critics in exile, with many revealing discreet government attempts to entice them into the kingdom's diplomatic missions in a bid to either force them to return or expose them to potentially the same fate as Khashoggi.
Khashoggi — a US resident, The Washington Post columnist, and a leading critic of Crown Prince Mohammed bin Salman — entered the Saudi consulate in Istanbul on October 2 to obtain documents for his pending marriage, but he never left the mission.
Saudi officials originally said Khashoggi had left the diplomatic mission unharmed, before announcing on October 19 that he had been killed inside the building in what they described as an altercation.
Saudi exiles told AFP that Khashoggi's death had caused such a wave of fear that some of them are cautious about visiting their country's overseas missions.
"The horrid story of Jamal Khashoggi has sent many activists into a state of shock," said Amani al-Ahmadi, a 27-year-old Saudi exile in Seattle.

"Many activists abroad don't speak up, fearful of bringing harm to their families back home, losing their scholarships or worse abduction and arrest," she added.
Saudi exiles also said that official attempts had been underway to "trap" overseas critics of the government or lure them to return to the kingdom since Bin Salman became crown prince last year.
Omar Abdulaziz, a 27-year-old Saudi activist exiled in Canada, said he was approached earlier this year by Saudi officials who urged him to visit their embassy with them to collect a new passport.
"They were saying 'it will only take one hour, just come with us to the embassy'," Abdulaziz, who had published derisive comments about the Saudi leadership, said in a video posted on Twitter.
Fearing a trap, Abdulaziz said he had refused to go and later two of his brothers and a handful of his friends were arrested in the kingdom.
Abdullah Alaoudh, a Saudi scholar, said he was subjected to a similar "plot" as he had applied to renew his passport at the Saudi embassy in Washington.
"They offered me a 'temporary pass' that would allow me to return to Saudi Arabia," Alaoudh told AFP. "I knew it was a trap and just left with my expired passport."
In yet another case, Manal al-Sharif, a Saudi woman activist exiled in Australia, said she had narrowly escaped the kingdom's dragnet in September last year when government officials sought to lure her to a Saudi embassy.
"If it weren't for the kindness of God I would have been (another) victim," Sharif said in a tweet.
Khashoggi, a Virginia-based journalist and a staunch critic of Riyadh, fled Saudi Arabia last September.
The number of asylum seekers from Saudi Arabia globally has more than doubled since the Saudi crown prince ascended to power, from 575 cases in 2015 to 1,256 in 2017, according to the United Nations' refugee agency.
'Crown prince enemy of Turkey'
Abdulkadir Selvi, whose columns in Turkey's English-language Hurriyet Daily News newspaper are closely watched for indications of the Turkish government regarding Khashoggi's case, said new details had emerged and the crown prince had to take responsibility.
Selvi said the dissident journalist had been strangled by a Saudi assassination squad, in a process that took up to eight minutes. Then Salah Muhammed al-Tubaigy, a lieutenant colonel in the Saudi forensic department, had cut the body into 15 pieces while listening to music.
"We cannot close this file until the crown prince is brought to account and removed from his post. For 50 years we cannot live with a crown prince who is an enemy of Turkey," said Selvi.
Turkish officials have said they believe that 15 Saudi men, who arrived in Istanbul on two flights on the day when Khashoggi entered the consulate, were connected to his death.
Turkish President Recep Tayyip Erdogan has said he will release information about his country's investigation into the murder case in a speech on Tuesday.
Turkey aide rejects Riyadh's Khashoggi death story
An adviser to Turkey's president rejected Riyadh's assertion that Khashoggi had died in a fight, saying the claim had "mocked" world opinion.
"One cannot help but wonder how there could have been a 'fistfight' between 15 young expert fighters … and a 60-year-old Khashoggi, alone and defenseless," Yasin Aktay, a friend of Khashoggi's, wrote in the pro-government Yeni Safak newspaper.
"The 'fistfight' argument regarding Khashoggi's death is a scenario which was hastily made up, as it became clear that all the details of the incident will soon come out," Aktay wrote. "The more one thinks about it, the more it feels like our intelligence is being mocked."
After more than two weeks of lies and denials, Riyadh claimed on Saturday that Khashoggi had died during a "brawl" inside the consulate.
Khashoggi's murder 'planned in savage manner'
A Turkey's ruling party spokesman said on Monday that the murder of the Saudi journalist inside the kingdom's mission in Istanbul had been planned in a "savage manner."
"This was planned in an extremely savage manner, and we are faced with a situation where there has been a lot of effort to whitewash this," Justice and Development Party (AKP) spokesman Omer Celik told reporters in Ankara.
"This is a very complicated murder," Celik added, warning that Ankara would not be drawn into speculation. "Everyone (else) can speculate but we cannot speculate," he noted.
The official also dismissed claims of "bargaining" between Saudi Arabia and Turkey as "immoral."
Celik also pointed to CCTV footage published by CNN on Monday, purportedly showing one of the Saudi officials acting as a body double for Khashoggi and leaving the consulate.
A senior Turkish official was quoted by CNN as saying that the Saudi official was "brought to Istanbul to act as a body double" for Khashoggi, adding, "This was a premeditated murder and the body was moved out of the consulate."
In the video a man, named by CNN as Mustafa al-Madani, left the consulate by the back exit wearing what appeared to be Khashoggi's clothes — although the shoes do not match those the journalist appeared to be wearing in CCTV footage of him entering the consulate.
'Abandoned Saudi consulate car' found in Istanbul car park
In a related development on Monday, Turkish police announced they had found an abandoned car belonging to the Saudi consulate at an underground car park in Istanbul, three weeks after Khashoggi's murder.
The car, which had diplomatic number plates, was found in an underground car park in the Sultangazi district of the city, AFP quoted the state-run Anadolu news agency and TRT World channel as saying.
According to the report, registration documents showed that the vehicle belonged to the Saudi consulate.
Turkish police say they have asked prosecutors and the Saudi consulate for permission to search the vehicle, after cordoning off access to the car park.
Turkey says will shed light on Khashoggi's 'nefarious murder'
A Turkish official said on Monday that the country will go until the end to enlighten the "nefarious murder" of Khashoggi.
Speaking to reporters after a cabinet meeting, a spokesman for President Erdogan, Ibrahim Kalin, said nothing would remain in the dark about Khashoggi's case, adding that Saudi officials were responsible for giving an account on the truths about his killing.
Khashoggi's murder 'wake-up call': Qatar
Qatar's Foreign Ministry also said on Monday that the murder of Jamal Khashoggi should act as a wake-up call.
The ministry's spokesman, Lolwah al-Khater, said Doha had faith in Turkey's probe into Khashoggi's death inside the Saudi consulate in Istanbul.
Noting that "we would like to see a transparent investigation," Khater added, "We have faith in the legal system in Turkey and I guess everyone is anxiously waiting to hear what is going to be announced tomorrow."
Answering a question about the relations between Doha and Riyadh in light of Khashoggi's death, Khater said, "I don't think anything has changed dramatically. We're just hoping that there is a wake-up call for everyone."
Khater was speaking at Chatham House, which is a London-based think tank affiliated with the Royal Institute for International Affairs, in a discussion entitled "Qatar's foreign policy: balancing new alliances in a contested region."
Asked what she thought Britain and other European countries should do in response, she added: "There was a joint statement that the UK, France and Germany issued and I think this statement, for the time being, summarizes all the actions that everyone wants to see."