Iran
Rohani calls for elites' role in decision-makings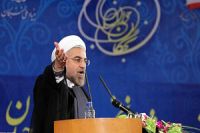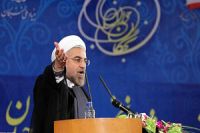 Iran's President Hassan Rohani called on all ministers, organs, and the decision-making centers in Iran to make use of the young elites and get help from them in the country's affairs.
According to IRIB, addressing the 7th National Conference of Young Elites, Rohan said in Tehran on Tuesday that he would order the cabinet members in the cabinet's session tomorrow on Sunday to draw up a structure in which the young elites play role in decision-makings.
He talked about massive presence of the elites, intellectuals and scholars in different scenes of the 8-year Sacred Defense, a war that the US imposed on Iran through Iraqi dictator Saddam Hossein, and said that we can stand heads up against all those powers that are moving against the national interests of the country through wisdom and piety.
President Rohani said the government urges for the help from the elites in different areas of bio-technology, Nano-technology, IT (information technology) as well as in political and economic domains.
A large number of elites as well as Head of Iran's National Elites Foundation, Ja'far Tofiqi, are attending the two-day event, which was inaugurated in Tehran today with the slogan of 'hope'.