Iran
Rohani stresses North-South Corridor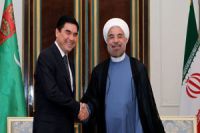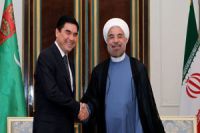 Iranian President Hassan Rohani has called for the completion of a railway project linking Iran with the Central Asian countries of Turkmenistan and Kazakhstan.
According to IRIB, in a meeting with his Turkmen counterpart Gurbanguly Berdimuhamedow on Sunday, Rohani said the completion of the project will enhance Tehran-Ashgabat relations.
In 2007, the three countries signed an agreement to construct the North-South Transnational Corridor.
The rout will link Uzen in Kazakhstan with Gyzylgaya-Bereket-Etrek in Turkmenistan and end at Gorgan in the Iranian province of Golestan. Then it will be connected to Iran's national rail network, making its way to the Persian Gulf ports.
In May, Iran officially inaugurated the segment of the railroad connecting Gorgan to the town of Incheh Borun along the border with Turkmenistan.
Berdimuhamedow, for his part, hailed Rohani's views with regards to strengthening bilateral and multilateral regional relations, and said his country will always support Iran's stances in international scene.
Berdimuhamedow also called for expansion of economic, political and cultural relations between Iran and Turkmenistan.