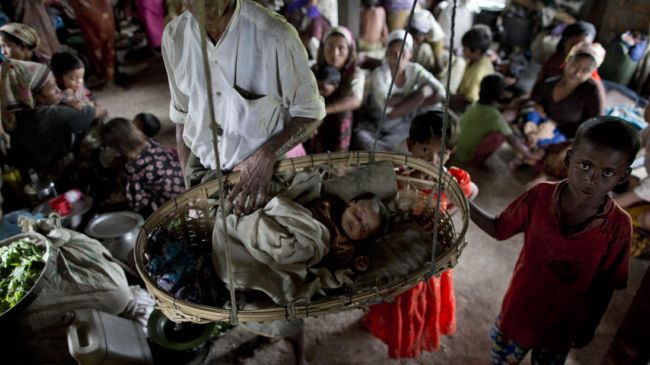 Rohingya Muslim refugees have staged a protest rally in the Indian capital New Delhi to highlight their sufferings, Press TV reports.
Hundreds of demonstrators on Wednesday urged the international community to look into their plight and pressure Myanmar's government to help stop the massacres and persecution of the Muslim minority there.
"We are facing a lot of persecution in Myanmar," a protester told a Press TV correspondent.
A woman, who lost her family members in the ongoing violence in Myanmar, also said that Rohingya Muslims "are in a very bad situation, we want the world to know that we are facing brutality by the Myanmar's government."
India is one of the countries hosting Myanmar's Rohingyas who have fled an ongoing violence against Muslims in their homeland.
Hundreds of Rohingya refugees, who are camping out on the outskirts of New Delhi, suffer from lack of food and medicine.
Many see the violence in Myanmar as an ethnic cleansing backed by the Myanmar government.
Reports say hundreds of thousands of Rohingya Muslims in Myanmar are suffering from a severe shortage of food and drinking water. Humanitarian aid deliveries have slowed down in Rakhine state as a result of an escalation in sectarian violence.
Hundreds of people – most of them Rohingyas – have been killed in Myanmar since the outbreak of the sectarian violence back in 2012.
According to the United Nations, the Rohingya Muslims are one of the world's most persecuted communities.
The Myanmar government has been repeatedly criticized by human rights groups for failing to protect the Rohingyas.