Iran
Rouhani Condemns Sanctions as Aggression against Iran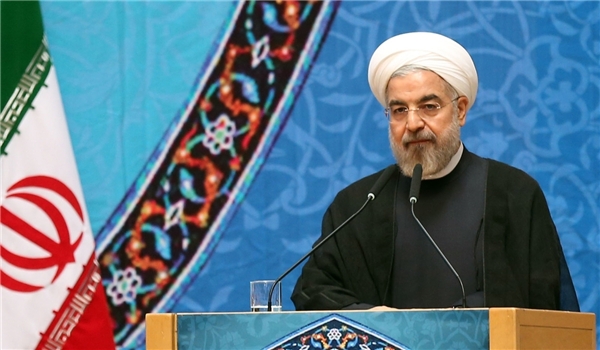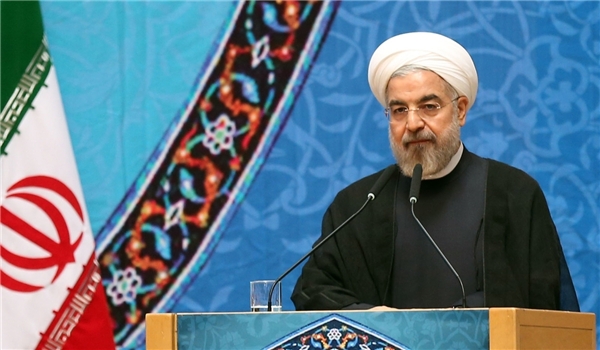 "Sanction is oppression and aggression and we should stand against this aggression, suppress the aggressor and do not let the sanctions be kept in place and repeated," President Rouhani said addressing the closing ceremony of Shahid Rajayee Festival in Tehran on Saturday.
President Rouhani's remarks came after the US Treasury Department on Friday imposed new sanctions against a number of Iranian shipping firms, oil companies and airlines as well as six Iranian banks.
"We will not waste even a moment on this path and we will do our best; it does not mean that we are afraid of the sanctions or we cannot live without the removal of sanctions, as our people have lived under sanctions all throughout the past years," the Iranian president said.
President Rouhani pointed to the unsparing efforts made by the Iranian foreign ministry, and said they have a difficult mission to accomplish. "(Iranian Foreign Minister Mohammad Javad) Zarif, his deputies and colleagues have made good efforts on this path and whenever it has been needed I personally have taken charge of the responsibility."
Earlier this month, President Rouhani said the US-led sanctions have harmed both the eastern and western states and their removal would help strengthen security and stability in the region.
"We have weakened and shaken the bases of sanctions and the conditions will never return to the past, we are serious and determined in the negotiations (with the world powers), but the world should know that the opportunity provided by the Iranian nation is not indefinite," Rouhani said, addressing an economic forum in Tehran.
"An agreement (between Iran and the Group 5+1) will benefit all and the western and eastern countries are telling us that the sanctions have harmed them and the removal of sanctions will benefit all," he added.
"On the other hand such an agreement will strengthen stability in the entire region and God willing, if the two sides enjoy a good will, we can reach a final settlement over this issue," Rouhani underlined.
Last week, Iranian Foreign Minister Mohammad Javad Zarif underscored the possibility of reaching a comprehensive agreement with the world powers, but said any final deal must include a UN Security Council resolution on the annulment of all sanctions, including those imposed by the council itself.
"If the other side enjoys the necessary will, there will be a possibility for reaching a comprehensive agreement, but if their goal is only heeding political interests of pressure groups in the western countries, there will be no possibility," Zarif said in a televised interview with Iran's state-run TV.
"We may face excessive demands during the negotiations, but the other side will understand in the final days that they should work with these (Iranian) people through respect and a win-win solution," he added.
Stressing that the Group 5+1 (the US, Russia, China, Britain and France plus Germany) should undertake to cancel the UNSC sanctions against Iran, Zarif said, "Any agreement with the G5+1 should lead to their going to the UNSC and presenting and approving a resolution which would annul the sanctions."