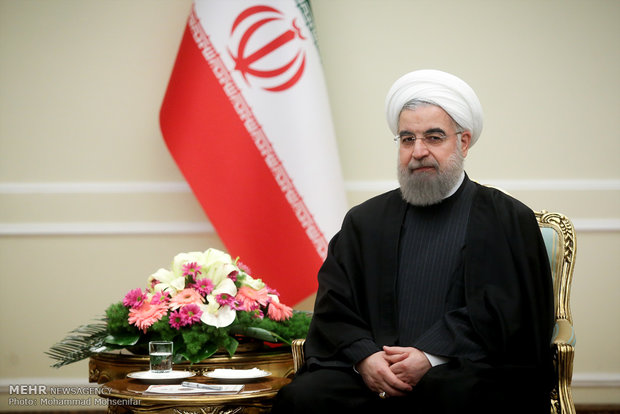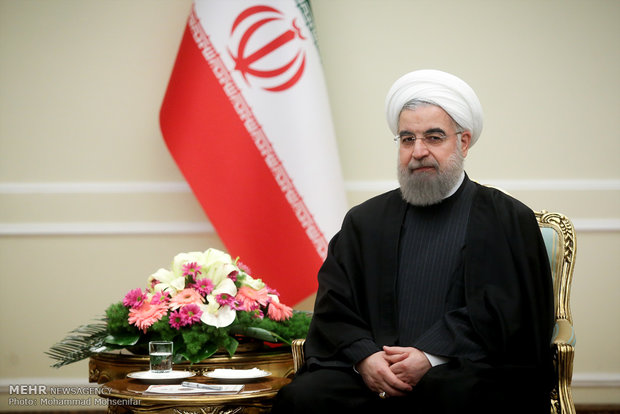 President Rouhani, in a message, has praised epic participation of the Iranian nation in Friday's rallies to mark the anniversary of Islamic Revolution of 1979.
In his message, Hassan Rouhani acclaimed huge presence of people in Bahman 22 rallies to commemorate the 38th anniversary of Islamic Revolution asserting "the heroic participation marked a manifestation of firmness in defending the country's independence and loyalty to genuine values of the Revolution which inspired hardworking members of the Islamic Republic of Iran.
The official also commemorated Imam Khomeini, martyrs and veterans who initiated the struggle against despotism and colonialism with their sacrifice in order to form the fruitful tree of the Islamic Republic.
He further hailed the wise nation who, with their record high turnover, exercised faith, determination and hopefulness in order to protect ideals of the Revolution.
Rouhani underlined that the nation's presence was replete with awareness which disappointed enemies and inspired companions.
"Now in the wake of the 40th anniversary of the Revolution, expression of national will from across the country remains as a clear sign of solidarity of the Iranian nation against all threats as well as a stunning manifestation of development which is promising of continued progress towards prosperity with authority and moderation," reads the message.
Rouhani said he deeply believed that no threat or conspiracy could prevent the country from reaching its lofty goals in the light of divine grace, hardworking presence of people and realization of the Leader's guidelines.
"Officials in the government, despite all difficulties and complexities, have spared no effort in providing new horizons for the country's development by detailed identifying of capacities and opportunities and away from extremism by efficient exploiting of all existing capabilities, a measure which has disappointed enemies and attracted admiration of supporters."
Once again, President Rouhani appreciated monumental and meaningful presence of the brave nation of Iran in Fajr Decade ceremonies, Feb. 11 rallies in particular. He thanked all people from various political and social groups who, with more enthusiasm than previous years, depicted unity and national commitment with their empathy and honesty.
At the end of his message, the Iranian President wished everyone's success in protecting values of the Revolution and achieving progress and excellence of the country.