Iran
Rouhani inspects flood-hit areas in Golestan province, vows compensation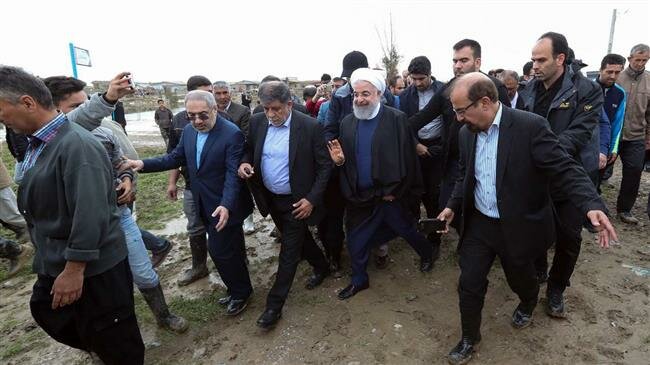 President Hassan Rouhani says his government will spare no effort to help people in flood-stricken areas as he visits affected areas in northern Iran.
Rouhani arrived in Golestan province on Wednesday to oversee relief operations and inspect the damage caused in flood-hit areas as heavy downpours and flash floods continue to batter several provinces across Iran.
 "The government, as … representative of the people, is committed to standing by you all the way and I promise you that we will restore all the villages and places that have sustained damage in Golestan province … with the help of people," the Iranian president said during his visit to flood-ridden regions.
Rouhani said he had ordered the relevant organizations to fund the reconstruction of affected residential buildings.
"In this regard, although we face a difficult year in terms of budget and problems, at the same time we will not hesitate to help," he added.
He also promised compensation for the affected, saying his government had allocated funds to compensate those who have sustained damage to their homes, livestock, agriculture, and businesses.
The floods, caused by torrential rain, have affected 25 of Iran's 31 provinces in recent days, with Golestan and Fars, among the most severely affected ones.
More than two dozen people have been killed as a result of the flooding countrywide. The southern city of Shiraz, the capital of Fars province, with 19 deaths that occurred during Monday's floods accounts for the highest number of casualties.
Meanwhile, rescue efforts are underway in several provinces.
Meteorologists are predicting that the downpours will briefly recede in most parts of the country later on Wednesday but they have forecast more heavy showers and warned of deluges and landslides.