Iran
Middle East
Pakistan
Qasem Suleimani
Rouhani: Iran, Pakistan to Deploy Rapid Reaction Force at Borders to Fight Terrorists
Iranian President Hassan Rouhani underscored determination to further expand ties with Pakistan, noting that the two states are due to deploy rapid reaction forces at borders to strengthen fight against terrorism.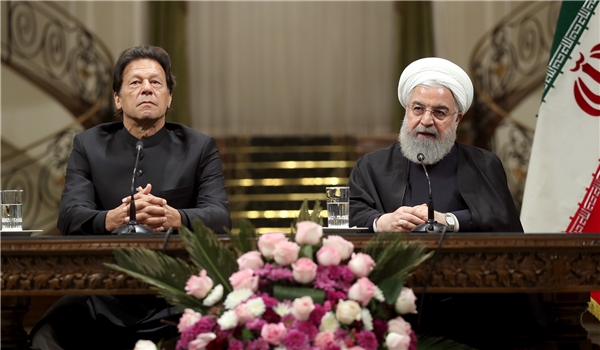 "Unfortunately, we have witnessed tensions at the two countries' border by terrorists in recent months. Of course, we are happy that the Pakistani side has clearly declared as terrorist the grouplets which carry out terrorist activities and will confront them," President Rouhani said in a joint press conference with Pakistani Prime Minister Imran Khan in Tehran on Monday.
"The two sides agreed to increase border security cooperation, the border guards and intelligence forces, and form a rapid reaction force at the border to confront terrorism," he added.
President Rouhani underlined Tehran and Islamabad's determination to further broaden relations, saying, "No third country is capable of affecting the two countries' brotherly ties."
He emphasized Iran's preparedness to meet Pakistan's oil and gas needs and adopt necessary measures to link the Peace Gas Pipeline to Pakistan, adding, "We have stated our readiness to increase electricity exports to Pakistan up to 10 times."
President Rouhani noted that he and Imran Khan also discussed regional issues, expansion of relations to establish stability and security in Afghanistan and the region, the United States' wrong moves, specially with regard to Quds, Golan Heights and insult to the Islamic Revolution Guards Corps by its designation as a "terrorist organization".
The highly important decision by the two leaders to deploy rapid reaction forces along common borders came in the aftermath of a deadly terrorist attack against the Islamic Revolution Guards Corps (IRGC) in February.
Jeish al-Adl, a Pakistan-based radical Wahhabi terrorist group staging cross border attacks into Southeastern Iran from South-West Pakistan, claimed responsibility for the February 13 attack against the IRGC members in Iran which killed 27 personnel.
The group has bases in Southwestern Pakistan and started operations nearly 6 years ago after recruiting the remnants of Jundullah notorious terrorist group and reorganizing them. Iran had captured leaders of Jundullah notorious Wahhabi terrorist group and dismantled the terrorist organization years earlier.
The terror attack has stirred fury among Iranian officials, specially the military brass. On February 19, Military Aide to the Iranian Supreme Leader Major General Yahya Rahim Safavi lashed out at Pakistani Intelligence service's backing for terrorists, advising Islamabad and its intelligence apparatuses that Saudi Arabia is not a reliable partner.
Speaking in Iranian central city of Isfahan, General Safavi said that the Pakistani government and its intelligence service had to respond to the Iranian nation and government, holding Islamabad responsible for the recent terrorist attack in Sistan and Baluchistan.
Meantime, General Safavi reiterated that Iran wanted to have good relations with its neighbors as it believed that insecurity in the region only served the interests of the United States and Zionists who had gathered in Warsaw conference, but vowed that Iran and the IRGC would give a "crushing and proper response in due time to the provocateurs and puppet perpetrators of the terrorist attack against the IRGC".
Also on February 16, former Commander of the Islamic Revolution Guards Corps Major General Mohammad Ali Jafari warned Riyadh and Abu Dhabi of Iran's revenge for the terrorist attack, and blasted Pakistan for supporting the terrorist groups which act against Tehran.
"The traitor governments of Saudi Arabia and the UAE should know that the Islamic Republic of Iran's patience has run out and the Islamic Republic will not tolerate your secret supports for the Takfiri grouplets. We will take revenge for our martyrs from the UAE and Saudi governments and want the president to give us more free hands than the past for retaliatory operations," General Jafari said in the Central city of Isfahan, addressing the burial ceremony of the IRGC personnel killed in the terrorist attack.
He said that the Saudi and UAE intelligence agencies were clearly hatching different plots to foment insecurity in Southeastern Iran in addition to the US and Israeli plots to create insecurity and conduct assassination operations, noting that Iran has reliable intel in this regard.
General Jafari also asked the Pakistani army and intelligence body why their country was sheltering Takfiri groups, including Jeish al-Adl which has claimed responsibility for the terrorist attack, and noted, "We believe this silence is kind of support for this grouplet and the Pakistani intelligence organization should account for it."
"Pakistan should also know that it should pay the cost for the Pakistani intelligence organization's support for Jeish al-Zolm (as Jeish al-Adl is called in Iran) from now on and this price will not doubt be very heavy for them," he added.
"Undoubtedly, the Pakistani security organization knows the hideout of the grouplets but it has kept mum," General Jafari said.
Also on February 21, Commander of the IRGC Quds Force Major General Qassem Soleimani warned the Islamabad government to stop cross-border attacks by the terrorists based in neighboring Pakistan.
"We have always offered Pakistan help in the region, but I have this question from the Pakistani government: where are you heading to? You have caused unrest along borders with all your neighbors and do you have any other neighbor left that you want to stir insecurity for," General Soleimani said, addressing a ceremony in the Northern Iranian city of Babol in Mazandaran province.
Addressing the Pakistani government, General Soleimani asked, "Are you, who have atomic bombs, unable to destroy a terrorist group with several hundred members in the region? How many of your own people have been killed in different terrorist operations? We do not want your condolences, how could your condolence help the people of Iran?"
General Soleimani went on to say, "I tell the Pakistani people that the Saudi cash has influenced Pakistan and they want to destroy Pakistan with such measures."
He warned that the Pakistani Army should not let several billion dollars of "a Saudi criminal" burn alive Muslims on a bus and finance other terrorist operations in the region, and said, "I ask the Pakistani government what has been left for Pakistan?"
"I warn you not to test Iran and anyone who has tested Iran has received firm response. We are speaking to Pakistan with a friendly tone and we are telling that country not to allow their borders to become a source of insecurity for the neighboring countries; anyone who has made this plot for Pakistan is seeking to disintegrate that country, the Islamic Republic of Iran will take revenge of its martyrs from those mercenaries who have committed this crime no matter where they are in the world," General Soleimani added. "We will punish this wicked group in any part of the world and we will not allow the blood of our youth to be shed in the country and cleaned (and forgotten) easily."