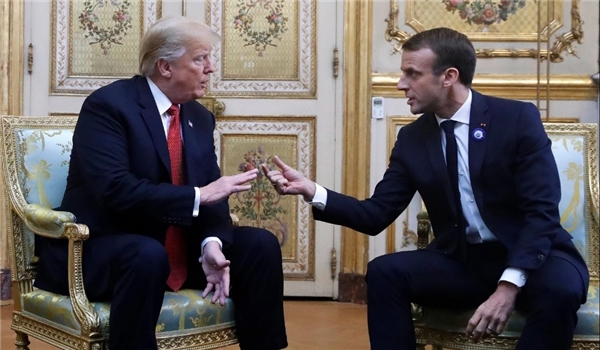 Iranian President Hassan Rouhani on Tuesday ruled out any chance for the success of the mediation efforts underway by his French counterpart under Washington's present line of policy, underlining that removal of the US sanctions is a prerequisite for Emmanuel Macron's success.
"The French President's efforts will only be effective if sanctions imposed by [US President Donald] Trump against Iran are lifted, and it is only at that time that the negotiations within the Group 5+1 will be possible," Rouhani said in a meeting with a number of American media directors and senior figures at the United Nations Headquarters in New York.
Macron has been running mediation efforts to defuse tensions between Iran and the US, fearing that full collapse of the nuclear deal could set the Middle East ablaze, but the US president has discredited his efforts on various occassions, saying that he does not believe in third party mediation.
The French leader has met Iranian Foreign Minister Mohammad Javad Zarif two times in recent months, including ahead of the G-7 summit in August. Zarif also spent about five hours in Biarritz, France, on the sidelines of the G-7 summit, but did not meet with US President Donald Trump or any member of the US delegation. Macron has several times held phone conversations with Rouhani in recent months to discuss the fate of the 2015 landmark agreement.
But once Macron presented a plan for an easing of sanctions on Iran's crude supply, the Trump administration reiterated its opposition, stressing that it continues the maximum pressure campaign unabted.
The French president was the one who expressed hope in late August that a long-anticipated meeting between the presidents of Iran and the United States would take place "in the next few weeks", but Tehran has firmly stressed that the Islamic Republic will not negotiate with the US at any level as long as it does not return to the nuclear deal.