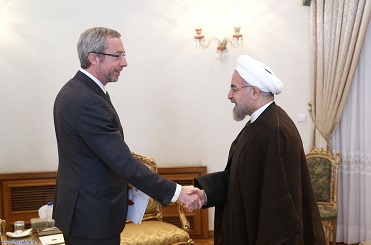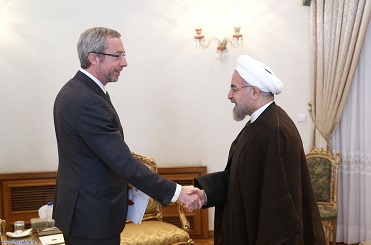 President Rouhani received new Belgian Ambassador to Tehran today and discussed various issues on the promotion of ties with Belgium.
After receiving the credentials of the new Belgian Ambassador to Tehran, President Rouhani pointed to the nuclear talks and said, "with a serious political will on both sides of the negotiation, a final win-win agreement is possible to be reached in the remaining time."
President Rouhani touched upon the critical situation in the Middle East and the existing insecurities in region and said, "terrorism and extremism are far more threatening than the Ebola disease and the only way out of them is the consultation, coordination and cooperation among all countries, and Islamic Republic of Iran is ready to consult with all concerned countries."
He also pointed to the history of friendly cooperation between the two countries including railroad construction and customs activities and expressed hope that under the new Belgian Ambassador, the delays in the progress of mutual relations will be compensated.
"The progress of trade would never halt in the world," said President Rouhani, "and obstacles can only change its course. Baseless accusations that led to imposing of sanctions against Iran must not harm countries which used to have favorable relations with Iran."
President Rouhani expressed hope that the European Union assumes a more effective role in the negotiations as the continuation of sanctions will harm Europe in the long run.
Francois Delhaye, for his part, expressed hope that Iran's nuclear talks will soon reach a positive outcome and said, "Belgium believes that Non-Proliferation Treaty must be applied to all countries with no exception."
"We are looking forward to see Belgian businesspeople and traders in Iran," said Mr. Delhaye. "I intend to invite a large delegation of Belgian businessmen to Iran in the near future."