Iran
Rouhani: satellite TVs no longer effective on public's faith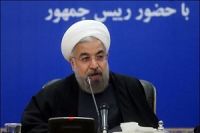 Rouhani: satellite TVs no longer effective on public's faith
Iran's president has said satellite TVs have had no effect on people's religious beliefs and piety, Mehr News Agency reported.
Hassan Rouhani, who was addressing the 4th National IT and Communication Festival, congratulated the IT family on the day and expressed that the day would come when no one would have monopoly over communications. "The era when the message was got through the traditional pulpit and loudspeakers had ceased to exist long ago, and any message produced now finds wide echo in the world, making it stronger and more influential," said Rouhani.
"Once upon a time, we thought that advent of video cassette player would deprive the youth their religious piety early Revolutionary days; after the video, it was satellite TV receivers that disconcerted 'cultural authorities,' he added, and that "currently, the system has focused on internet, users, email, and mobile; how we should handle these; I recommend all to trust our young third and fourth generations."
Rouhani however maintained that he did not mean by these remarks to ignore the national security; "even the superpowers had their own national security issues; in politics, though, the expediency is to save national security and classified information and not anything else; but in social issues, what is important is to uphold public morality and values; I would not know other expediency than this," Rouhani asserted.
President also said that the government recognized the communications as a citizenship rights.
Rouhani called the young people he believed constituted the larger number of users in social networks, to 'swarm the net with spreading of Iranian-Islamic identity.'
He believed that spreading Islamic-Iranian culture was not a duty of the government, but "this remains with private sector and NGOs."
Rouhani added that conditions of the electronic government should not be poor and he assessed it as 'not acceptable.'
"Personally, I am not satisfied with the broadband internet; we should bring private sector to a dominant position in terms of providing the third and fourth-generation mobile communications to the public," he demanded.