Iran
Rouhani says emphasis upon enrichment right an achievement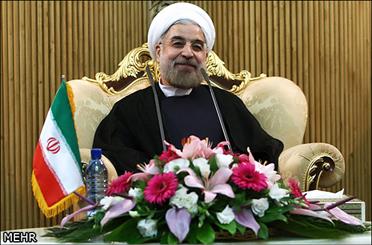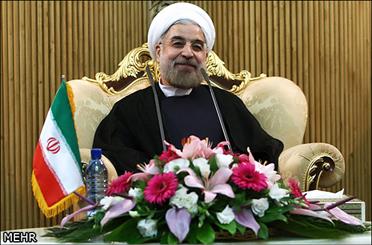 Iran's president has said emphasis upon Iran's rights to enrichment is a significant outcome of the Genève talks.
Mehr News quoted Hassan Rouhani speaking in a press conference in presidential palace after a deal was agreed on Genève. "Iran is ready to cooperate with the IAEA in order to completely resolving the doubts raised by the Agency, "said he, making hints to nuclear deal, "government is proud of such a success before the hundredth day of the incumbency the Cabinet."
"We should find trust on the others, especially western countries as well, however, we have a long path to reach a complete trust, to which we have taken the initial steps," added Rouhani.
Rouhani said that his government's guiding principle was constructive cooperation with the world. "This constructive cooperation will be realized in the light of mutual trust," asserted he, commenting on Iran and Powers nuclear talks, "world powers did recognize Iran's nuclear rights. The Islamic Republic of Iran inherently entitled to this right, since the NPT grants this right to all signatories, and hence more than 40 countries practice enrichment in the framework provided by the NPT."
"The Agency supervises many countries producing nuclear fuel. However, the recognition by the world great powers of Iran's indisputable rights is highly valuable in that it tackles many hurdles in the way Iranian people to success," said Rouhani.
He also pointed to the second achievement in nuclear talks. "The right to enrichment inside the country is the second achievement. Any interpretation is possible, but the draft says Iran would enrich Uranium, and I would declare to the nation that our enrichment activities will continue as in the past," Rouhani said.
Rouhani believed the easing the sanctions as the third achievement. "The international community has said that with the comprehensive talks to be embarked on immediately today and reaching a more comprehensive deal, all sanctions including those enacted by the UN would be unilaterally annulled by the US or the EU," he asserted.
He also expressed his satisfaction that after ten years a deal was agreed. "even though the initial deal is agreed would be for six months and talks would be resumed for more extensive agreements, this would be the final negotiation," added Rouhani, expressing hope that the Powers maintain this seriousness and sincerity, "we saw that when there was mutual respect and the sides spoke from an equal stance, moving forward would be much easier and we hope that negotiations would resume according to such principles."