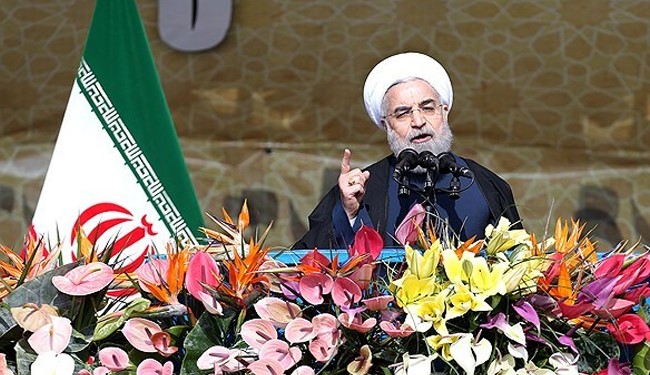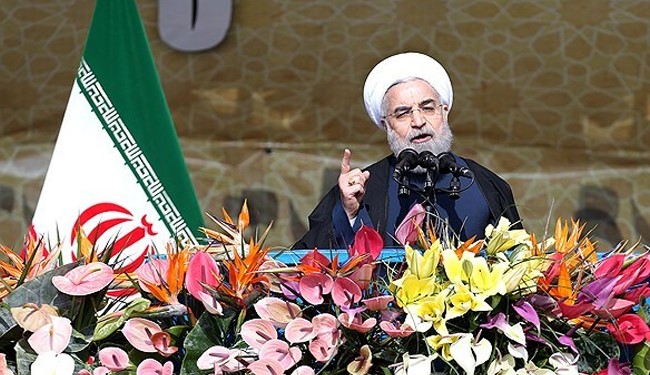 Iranian President Sheikh Hassan Rouhani stressed on Thursday that achieving the objectives set by the Islamic Revolution should be by moving on with the path of Revolution under the leadership of the Supreme Leader.
Addressing a large crowd of demonstrators marking the 37th victory of the Islamic Revolution in the Iranian capital, President Rouhani called for large turnout of people in the elections, urging them to vote for hope, law enforcement, defending their rights and construction of their country.
Stating that the Islamic Revolution was an ethical and peaceful revolution which led to victory without violence, he noted that the Islamic Republic needs to update the discourse of the Revolution.
"There is no gap between Revolution and principles or Revolution and reform. All true fundamentalists, true reformists and true moderates are revolutionary. We need to update the discourse of the Revolution."
Speaking to reporters earlier on the sidelines of the Bahman 22 (February 11) rallies, President Rouhani hailed the huge masses of people celebrating the Revolution anniversary nationwide, as well as the country's security apparatus, describing it a model in the region.
"I congratulate the great Iranian nation on the occasion and am thankful to the brave nation that is still present in the [political] scene like early days of the Revolution. Undoubtedly, we will meet all our aspirations, relying on the endeavor of the people, unity, and integration.'
"We can meet all our goals with the help of people and guidelines of the Supreme Leader of the Islamic Revolution," he said, adding that the whole world is convinced now that the rhetoric of sanctions has reached a deadlock with Iran, and that the Iranian people should be treated only with respect.
"Achieving the nuclear deal made the world countries understand that the Iranian people can fight off the tyrant powers in the diplomatic arena," Sheikh Rouhani said.