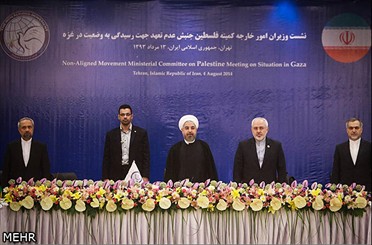 Iran's president has urged the NAM members to take swift action to stop ongoing atrocities by Israel in Gaza.
NAM Palestine Committee meets in Tehran to discuss ongoing crimes by Israel in Gaza.
Iran's President Hassan Rouhani first welcomed the meeting and hoped it would find a solution to help the 'brave people of Palestine' who have been oppressed by Zionists.
He denounced the Zionist regime for its atrocities through the last weeks. "The Zionist regime has put international laws, human rights, and humanitarian laws aside and used the most modern munitions in an unequal war against Palestinians," said Rouhani and added that "Israel has severely attacked Gazans, its army is a child murderer army that continued genocide in Gaza, killing civilians, destroying hospitals, schools, mosques and media and aid servers."
President Rouhani reiterated that the Zionist regime had organized the killings of civilians in Gaza and continued to say that "Israel has killed and injured thousands of Gazans and displaced hundreds of thousands of people while international community especially UN Security Council have not reacted and remained silent to the inhumane actions of the Zionists. It makes the aggressive regime of Israel to act more aggressively and violently. The crisis needs prompt reaction by the international organizations to help the oppressed people in Gaza."
Rouhani called on the NAM members to take immediate action to help Palestinians have peace and justice.
President Rouhani asserted the need for swift measure by the NAM members taking necessary steps and full support to completely remove of the blockade in Gaza despite UN inaction.
He censured silence and inaction of the UN over Israel massacre in Gaza and condemned 6-decade lasting genocide by Israel in the besieged enclave.
Rouhani held that the crises in Middle East, the deprivation for Palestinians from vital daily needs are the results of the Zionists' brutal crimes. He believed that the Zionists have continued their brazen actions, because of all international community's inaction, indecision and silence, especially UN Security Council, which turned a blind eye and preferred silence about the crisis in Gaza over the last decades.
President Rouhani added that the entire crisis in the region has only one solution to end, that is, 'ending Gaza blockade, allowing all displaced Gazans to return to their homes, and establishing of an integrated government of Palestinians.