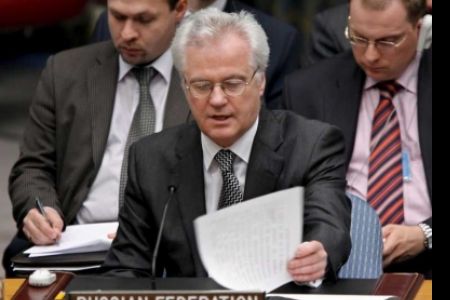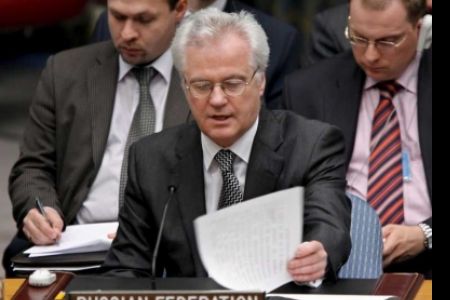 Russia has expressed hope for the P5+1 Group to resume talks with Iran and reach a nuclear fuel-swap deal with Tehran through dialogue and diplomatic channels.
"Some useful exchanges and consultations have taken place and we believe that clearly we should proceed down that track," the Canadian Press quoted Russia's UN Ambassador Vitaly Churkin as saying on Tuesday.
Highlighting Moscow's support, he expressed hope for the talks between P5+1 and the Islamic Republic on a proposal by Brazil and Turkey to exchange low-enriched Iranian uranium for higher-enriched fuel rods that can be used in the Tehran research reactor.
Churkin further explained that there are two diplomatic tracks open, to arrange new negotiations between the P5+1 Group – the five permanent members of the UN Security Council plus Germany – and Iran that have been stalled since October 2009, or to arrange a nuclear fuel swap.
"Both tracks have promise in bringing about a diplomatic and political solution," he went on to say.
Referring to recent remarks made by some US officials about the possibility of an attack on Iran, the Russian official underscored that Moscow believes the Iranian nuclear dispute must be settled diplomatically, not militarily.
Russia's foreign ministry has also supported the idea of Brazil and Turkey "joining in expert discussions of the swap," Churkin said. "we are in close contact with them."
"We need all the support we can get on this matter and we think that their activity has been very helpful," he further explained.
On May, Brazil and Turkey brokered a deal in Tehran where Iran agreed to send 1,200 kg of its low-enriched uranium to Turkey in exchange for fuel for the medical research reactor in Tehran.
The US and its European allies snubbed the declaration and used their influence on the UN Security Council to impose a fourth round of sanctions against Iran which was followed by a series of more sanctions from the US and the EU, targeting Iran's energy and banking sectors.
On Sunday, chairman of the US Joint Chiefs of Staff, Admiral Mike Mullen, said that the US military has a plan to attack Iran.
Iran responded that such remarks serve only to distract attention from US failures in the Middle East.