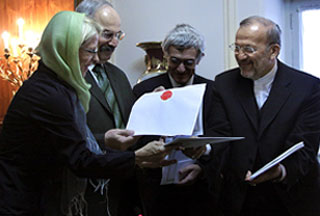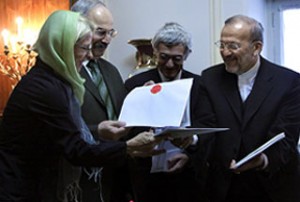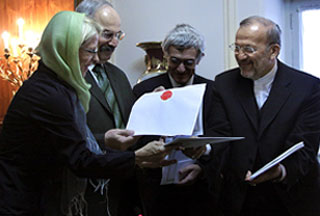 Russia and China say they are studying the new package proposed by Iran to resolve the standoff over the country's nuclear program.
Iranian Foreign Minister Manouchehr Mottaki on Wednesday submitted the package to the Ambassadors of China, France, Germany, Russia and Switzerland, on behalf of the US, and the British chargé d'affaires in Tehran.
Russian foreign ministry spokesman Andrei Nesterenko said on Thursday that the Iranian package needs "expert evaluation".
"The document should be studied, it contains quite a lot of arguments which require expert evaluations," AFP quoted Nesterenko as saying.
Nesterenko said Russia would be discussing the package with the Group 5+1 to reach agreement on "how to evaluate the document".
Iran had earlier announced that it would offer a package of proposals to the West in order to settle the dispute with over its nuclear issue. The details of the new package have yet to be disclosed.
Chinese foreign ministry spokeswoman Jiang Yu urged the major powers to move to resolve the standoff.
"Relevant parties should step up diplomatic efforts and resume talks as soon as possible to seek a comprehensive, long-term and proper settlement of the issue," Jiang told reporters.
"We have just received Iran's package of proposals and are studying it".
Tehran has repeatedly declared that while it is willing to talk with the West, it will not give up the Iranian nation's legitimate right, granted under the Nuclear Non-proliferation Treaty (NPT), to uranium enrichment.
"This proposal encompasses all the main issues such as economic and security cooperation, nuclear non-proliferation and disarmament, energy supply and demand, energy supply security, and peaceful applications of atomic technology," Iran's envoy to the IAEA Ali Asghar Soltaniyeh said regarding the new package.