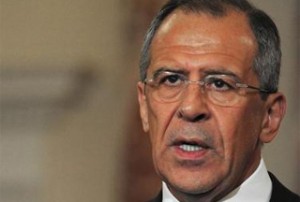 Despite endorsing Western efforts to pressure Iran over its nuclear program, Russia says it still prefers to resolve Tehran's nuclear issue through diplomacy rather than sanctions.
Russia's Foreign Minister Sergei Lavrov told reporters during a trip to Paris that there was still room for diplomacy in dealing with Tehran over its enrichment activities.
"We will concentrate all efforts on finding political and diplomatic solutions," Reuters quoted Lavrov as saying on Tuesday. "These efforts have not yet been exhausted."
Lavrov's comments come a day after Russian President Dmitry Medvedev said in a statement that Moscow would support a new round of sanctions against Tehran as long as they did not create a humanitarian crisis.
Russia and China, both veto-wielding members of the 15-nation UN Security Council, have strongly resisted Western calls for 'punishing Iran' with further sanctions in the past.
Over the past few weeks, Russia has appeared to be edging closer to supporting the US-prescribed package of stricter sanctions against Tehran but still seems to have reservations on the idea.
Western countries have already imposed three rounds of UNSC-backed sanctions on Iran and are currently lobbying for a fourth, which is believed to contain a "symbolic" tightening of economic measures against the Tehran government, which has insisted that any such actions will again prove futile.
World powers, most of which possess and continue to develop vast nuclear arsenals that have been tested and even used in military confrontations, accuse Iran of the "intention" to enrich uranium to weapons-grade levels and have gone to great lengths to prevent the country from producing fuel for its medical and industrial needs.
As a signatory of the Nuclear Non-Proliferation Treaty, Iran insists that it neither believes in atomic weapons, nor, as a matter of religious principles, does it intend to access such weapons of mass-destruction.
Moreover, Tehran has also repeatedly called for the elimination of all nuclear arms throughout the globe, which has been largely ignored by Western nuclear powers.