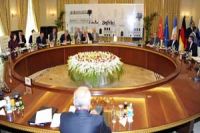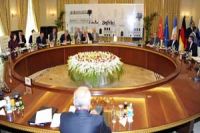 Russia has expressed optimism that the next round of negotiations between Iran and the six world powers will be held next month.
According to Press TV, a Russian foreign ministry spokesman told RIA Novosti on Thursday: "Currently negotiations are under way with Tehran on the place and date."
He added: "We hope that this work will be completed in the near future and such a meeting will take place in January of next year."
On Wednesday, Iran's Foreign Ministry Spokesman Ramin Mehmanparast said no date or venue had been set for the next round of talks between Tehran and the G5+1 group — including Britain, China, France, Russia, and the US plus Germany.
Iran and the G5+1 have held several rounds of talks with the main focus being Iran's nuclear issue.
The United States, Zionist regime and some of their allies have repeatedly accused Iran of pursuing non-civilian objectives in its nuclear energy program.
Iran notes that as a signatory to the Non-Proliferation Treaty and a member of the International Atomic Energy Agency, it is entitled to develop and acquire nuclear technology for peaceful purposes.