Europe
Russia involved in Ukraine, Kerry claims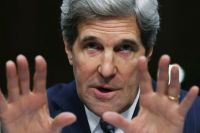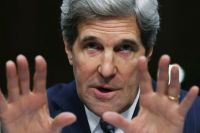 The US secretary of state claims Washington has obtained intercepted phone calls proving Russia's involvement in the ongoing crisis in Ukraine, a report says.
The Daily Beast quoted John Kerry as saying "Intel is producing taped conversations of intelligence operatives taking their orders from Moscow… We know exactly where they are coming from".
Kerry, who made the remarks to a closed-door meeting of the think-tank Trilateral Commission on Friday, did not name specific Russian officials.
He claimed that the intercepts prove that Moscow is deliberately fomenting unrest in eastern Ukraine.
However, the US Department of State spokeswoman, Jen Psaki, played down the leaks, saying Kerry has already made similar claims about Russia.
The relations between the two neighboring countries deteriorated after Crimea declared independence from Kiev and formally applied to become part of the Russian Federation following a referendum on March 16.
The move led to pro-Russia protests in the eastern and southern parts of Ukraine. The government in Kiev accuses Moscow of supporting the protesters, a claim which Russia denies.