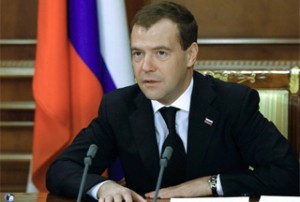 Russian President Dmitry Medvedev has characterized Israel's killing of international activists on a Gaza-bound aid Flotilla as "absolutely unjustified."
Addressing a Russia-EU summit in the southern city of Rostov-on-Don on Tuesday, President Medvedev said, "The loss of people is irretrievable and absolutely unjustified."
Israeli commandos launched a pre-dawn assault on the six-ship aid convoy in international waters in the Mediterranean Sea, at least 150km (90 miles) off the coast of Gaza.
The Freedom Flotilla was carrying more than 10,000 tons of humanitarian aid to the impoverished Gaza Strip, where a years-long Israeli siege has pushed the people on the verge of starvation.
The Monday assault killed 20 people onboard the ships — mostly Turkish nationals — and left about 50 others injured, Palestinian sources reported.
The Israeli act of violence has drawn global condemnation, with many states and international bodies roundly condemning the raid.
The assault on the aid vessels has also prompted many countries across the world to summon Israeli ambassadors.