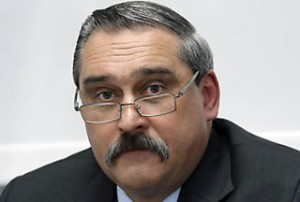 Russia says it may support new round of sanctions against Iran "if there is no visible progress" in resolving the impasse over Tehran's nuclear program.
"If there is no visible progress in this direction, then we do not exclude the possibility of putting additional pressure on the Iranians with the help of sanctions," Reuters quoted Russian Foreign Ministry Spokesman Andrei Nesterenko as telling reporters in Moscow.
Nesterenko, however, reiterated that Moscow prefers a diplomatic solution to the issue.
On Wednesday, senior diplomats from six world powers held a conference to discuss Iran's nuclear issue.
The US and its allies have been trying hard to push through a fourth round of sanctions against Iran, while China and Russia have been reluctant to go along with the scheme.
Nesterenko also stressed that his country would not throw its support behind financial and economic sanctions on Iran.
"But… such sanctions must be directed exclusively on the resolution of non-proliferation tasks and not aimed at the financial and economic suffocation of this country," he said.
Although the IAEA inspectors stationed in Iran have not been able to find evidence to support Western claims of diversion in the Iranian nuclear program, the US and its European allies continue to accuse Iran of pursuing nuclear military aims under the guise of a civilian program — a claim repeatedly rejected by Tehran.
Iran is adamant that, as a signatory to the Nuclear Non-Proliferation Treaty, its nuclear program is peaceful and aimed at civilian applications of the technology which many western countries enjoy but try to prevent others to acquire.