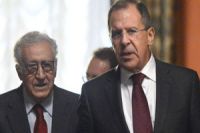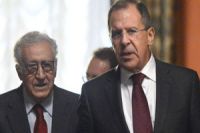 Russian foreign minister has highlighted that there is still a chance of coming up with a political solution to resolve the ongoing crisis in Syria.
According to Press TV, Sergei Lavrov said after talks with UN-Arab League Special Envoy to Syria Lakhdar Brahimi on Saturday "The confrontation is escalating. But we agree the chance for a political solution remains."
The top diplomat further noted that he was "surprised" when the opposition's National Coalition rejected Moscow's offer for talks.
Lavrov went on to say that nothing can be done to convince Syrian President Bashar al-Assad to step down.
The Russian foreign minister said "Regarding Bashar al-Assad, he repeatedly said, both publically and in private… that he is not planning to leave, that he will remain in his post," There is no possibility to change this position."
Earlier in the day, Brahimi arrived in the Russian capital in an effort to find a way out of the conflict in Damascus.
Meanwhile on Friday, Russia sent an invitation for a Moaz al-Khatib, the head of the so-called coalition to visit Moscow.
Khatib, whose group is supported by certain Western states and their regional allies like Qatar, Saudi Arabia, and Turkey, said later in the day that he had declined the Russian offer and wanted an "apology" from Moscow for what it described as Russia's support for the government of President Bashar al-Assad.