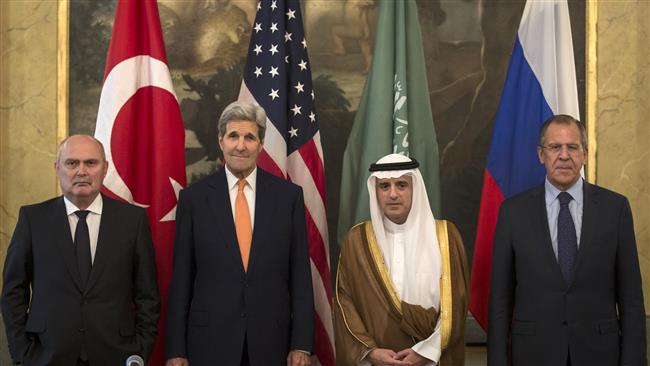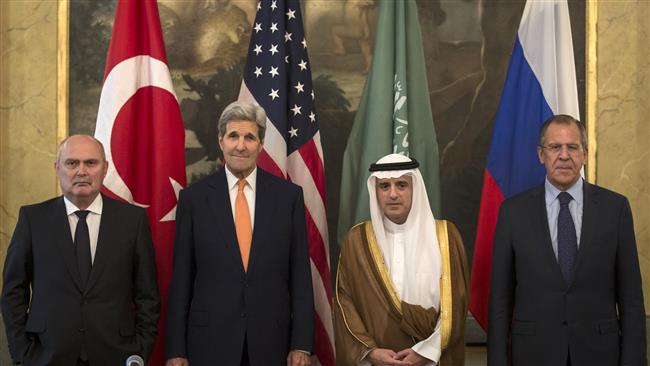 The Russian, US, Saudi and Turkish top diplomats have met to discuss the ongoing crisis in Syria.
Russian Foreign Minister Sergei Lavrov, US Secretary of State John Kerry,  Saudi Foreign Minister Adel al-Jubeir and Turkish Foreign Minister Feridun Sinirlioglu met in the Austrian capital Vienna on Friday.
Russia expects the meeting to result in "an honest and objective exchange of views about the situation which will give an opportunity to map out a clear path for activating efforts to achieve a comprehensive political resolution," said Maria Zakharova, a spokeswoman for Russia's Foreign Ministry.   
Prior to the talks, Lavrov highlighted the need to step up the campaign against terrorism in Syria and the need for a political solution to the crisis.
"Our common position is that we need to boost efforts for the political process in the Syrian settlement," he said, adding, "This foresees the start of full-scale talks between representatives of the Syrian government and the full spectrum of the Syrian opposition, both domestic and external – with the support of outside players."
The meeting comes after Syrian President Bashar al-Assad paid a surprise visit to Moscow and met with President Vladimir Putin on Wednesday.
The so-called Middle East Quartet – comprising the United Nations, Russia, the United States and the EU, as well as some Arab states – was also due to hold a meeting in Vienna on Friday.
Washington, Ankara and Riyadh support militant groups fighting to topple the Syrian government. The three countries claim that Russia's ongoing military intervention in Syria would only prolong the crisis.
Russia, meanwhile, has been conducting the airstrikes against Daesh and other terrorist groups since September 30 on the Syrian government's request.
In his visit to Moscow, President Assad informed the Russian leader of the Syrian government's plans to fight terrorists. The two presidents also discussed a political solution to the conflict.
The US and its regional allies insist that President Assad should go in order to be able to find a political solution to the Syria war. Russia says the international community should first help Assad defeat Daesh.
"The aim of the US is to get rid of Assad; probably that is so. Our aim is to defeat terrorism, to battle terror, and to help President Assad claim victory over terror," Putin said on Thursday.
"In this way, we can then create the conditions for the start and, I hope the successful reaching of a conclusion, of the political process to find a settlement," he added.
Syria has been gripped by foreign-backed militancy since March 2011. The crisis has claimed the lives of more than 250,000 people so far and displaced millions.