Turkey
Middle East
World News
Russia warns Turkey, other states against fueling militarization in Ukraine
Russia has warned Turkey against fueling the Ukrainian government's "never-ending militarization sentiments," amid speculation that Kiev may be planning to launch a new offensive against the Russian-speaking Donbass region in Ukraine.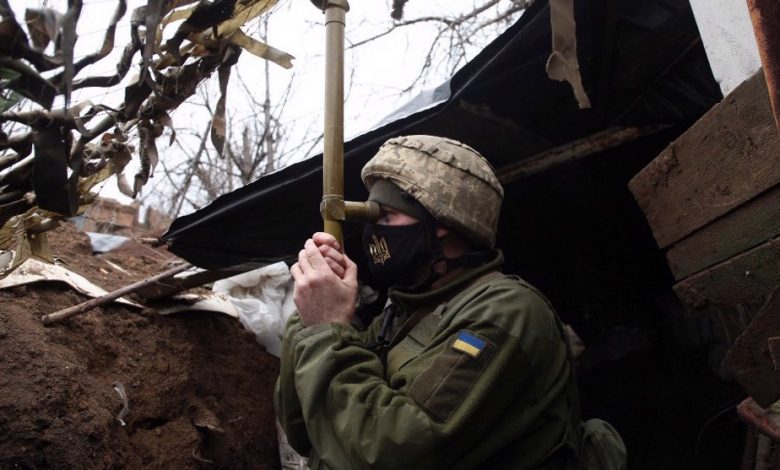 Russian Foreign Minister Sergei Lavrov warned Turkey and "all responsible nations" on Monday against feeding "Ukraine's militant tendencies."
Lavrov made the remark while visiting the Egyptian capital, Cairo, two days after Turkish President Recep Tayyip Erdogan hosted UkrainianPresident Volodymyr Zelensky in Istanbul.
Erdogan pledged "all forms of support" for Kiev, amid a spike in violence in the Donbass, where Ukrainian government troops and pro-Russian forces have been fighting since 2014.
The Turkish government provided Ukraine with drones in 2019.
Lavrov said Kiev had "waged a war against its own people, declaring them to be terrorists" in the eastern regions of Donetsk and Lugansk, amid reports of an intensification of provocations in the form of shelling and sniper attacks along the lines of contact in the Donbass region.
In 2014, the then-Ukrainian territory of Crimea also voted in a referendum to fall under Russian sovereignty.
In his meeting with Zelensky, Erdogan also said that his government did not recognize "Crimea's annexation," calling for "respect for Ukraine's territorial integrity."
His government also announced on Friday that the United States would soon send two warships through the Bosphorus to the Black Sea, which borders both Russia and Ukraine.https://if-cdn.com/9TkCGGg?v=1&app=1
'We live here! What about you?!'
The reports of planned military build-up by the US comes as Ukraine says Russia is amassing thousands of military personnel on its northern and eastern borders as well as on the Crimean Peninsula.
In his remarks, Lavrov criticized the US military build-up near the Russian border, saying that the deployment "is accompanied by aggressive rhetoric."
"We are asked what Russia is doing on the border with Ukraine," he said. "The answer is very simple: we live here, this is our country. But what the United States is doing via its warships and troops, which are constantly organizing some kind of events in Ukraine under the auspices of NATO, thousands of kilometers from America's own territory — this question still remains unanswered."
Two US aircraft arrive in Ukraine
Separately, data from flight tracking services showed that two US Air Force aircraft had arrived in Ukraine over the weekend.
Two planes — a C-130 and a C-17 — made their way to the country from Germany's Ramstein Air Force Base, reports said. Their mission and cargo were unknown.
The deployment came after last week's arrival of at least three US military aircraft in Ukraine from an airbase in the United States.
Earlier this month, US President Joe Biden promised Zelensky to provide "unwavering support" for Kiev "in the face of Russia's ongoing aggression."
And on Sunday, his Secretary of State Antony Blinken threatened Russia with "consequences" if Moscow acted "aggressively" against Ukraine.
Russian Foreign Ministry spokeswoman Maria Zakharova warned last week that the military buildup by the US was "gaining momentum," which risked further escalation.
Russian Embassy in France blames West for Ukraine's behavior
In another development, the Russian Embassy in France blamed the West for the current crisis, saying, "Ukraine's behavior now comes due to the lack of the Western guarantors' response to its violations" of an agreement over the Donbass.
Under an agreement reached in February 2015, Kiev committed to granting two self-declared republics in the Donbass broad autonomy in exchange for a formal return to Ukrainian jurisdiction.
The accords led to an uneasy ceasefire between Kiev and the eastern territories, but Ukraine has refused to grant autonomy to the two republics.
"Kiev's consistent violation of [the agreement] is triggered by the West's connivance," said aspokesman for the Russian Embassy, Sergei Parinov.
"The Ukrainian forces are there where they must not be in accordance with the Minsk agreements," he added.
He also dismissed allegations that Moscow was posing a threat to Ukraine, saying that the Russian forces were moving only along Russia's national borders.
"Russia is one of guarantors of the peace agreements and has never carried out aggression against Ukraine," Parinov said.
The Kremlin has repeatedly said it is mindful of its own security and that it does not intend to threaten anyone.