Korea
S Korea ferry victims' families stage protest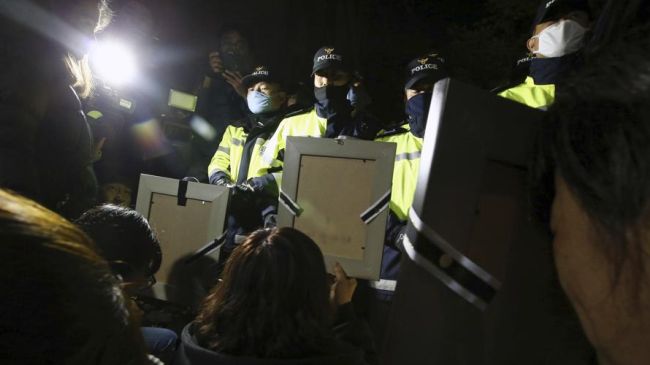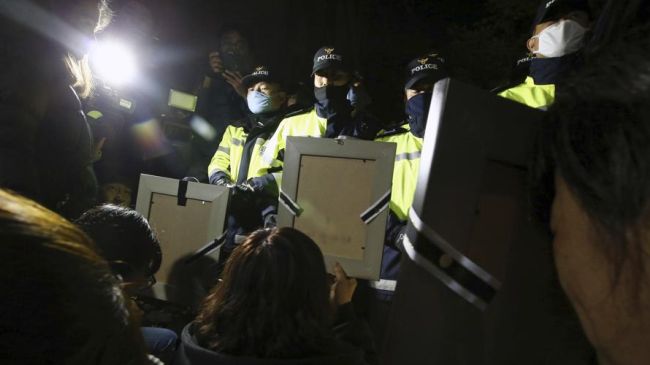 Dozens of parents of students killed in a passenger ferry disaster in South Korea have staged a sit-in near the presidential Blue House in Seoul, demanding a meeting with President Park Geun-Hye.
Holding memorial portraits of their children, who died when the Sewol ferry capsized with the loss of around 300 lives last month, they camped out at a street corner a few hundred meters from the Blue House on Friday.
Police forces prevented family members and mournful parents from approaching the palace.
"Listen to us, President Park. Just give us ten seconds!," one family member said, using a portable address system, while another added, "Why are you blocking the way? President Park hear our voices!"
"We're calling for a meeting with the president to press our demands," said Kim Byeong-Kwon, a spokesman for the families.
The demonstration which started on Thursday night at first focused on state-funded KBS TV that commented the death toll from the ferry tragedy was far lower than the number of those who lose their lives every year on South Korea's roads. The parents then headed for the Blue House to call for a meeting with the president.
Park's government has come under fire from the parents who say delays in launching the rescue raised the death toll.
They want more resources sent at the recovery site to accelerate the retrieval of the bodies of around 30 passengers still missing.
Sewol capsized off South Korea's southern coast on April 16 while carrying 475 people, out of which 325 were students from a high school in the city of Ansan, just south of Seoul.
The relatives of the passengers believe that some children might have survived for hours or even days inside airpockets of the overturned ferry, but passed away because rescuers took too long to access the submerged vessel.