Korea
S Korea opposition MPs file impeachment motion against Park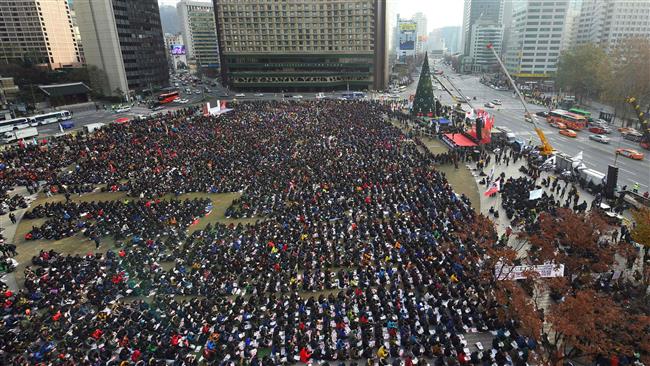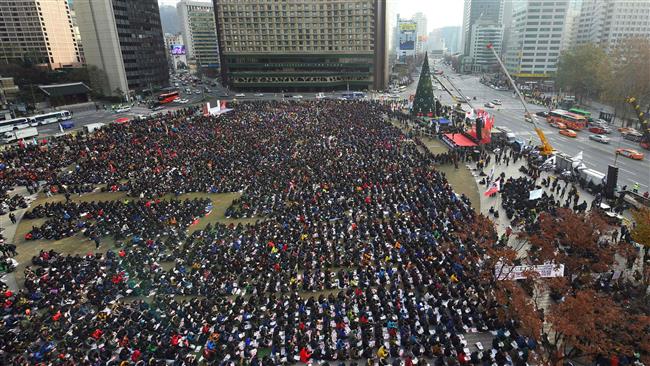 South Korea's opposition lawmakers have filed an impeachment motion against scandal-plagued President Park Geun-hye as hundreds of thousands of protesters are expected at rallies demanding her ouster.
The motion, filed on Saturday and backed by 171 opposition and independent lawmakers in the 300-seat parliament, is due to be voted on in the National Assembly next Friday, local press reports said citing legislators.
However, the opposition does not command sufficient votes to push through Park's impeachment – which requires a two-third majority vote – and needs the help of nearly 30 dissenters within the president's Saenuri Party to secure its passage.
This is while a group of anti-Park lawmakers in the ruling party have vowed to vote for her impeachment if she fails to announce by Wednesday that she will voluntarily resign next April, allowing a presidential election to be held in June – six months ahead of schedule.
Park stated in a Tuesday address before the parliament that she would leave office if lawmakers come up with a stable power transfer plan but failed to offer a timeline. Opposition lawmakers, however, slammed the pledge, describing it as a stalling scheme aimed at luring back members of her party who backed her impeachment.
If passed, the impeachment motion would go to the Constitutional Court for approval – a process that may take as long as six months.
Meanwhile, hundreds of thousands of South Koreans are anticipated to take part in yet another march in capital Seoul for the sixth straight Saturday to demand the removal of the embattled President, hours after lawmakers formally launched a legislative measure to impeach her.
Thousands were also expected to rally near the country's National Assembly to pressure parties, including Park's conservative ruling party, to vote for her impeachment.
The demonstration will come hours after lawmakers formally launched an attempt to impeach Park.
The corruption scandal surrounding Park's administration is centered on a long-time confidante of hers, Choi Soon-sil, who has been described as "Korea's female Rasputin."
Korean prosecutors say they have evidence that Park colluded in Choi's efforts to intimidate firms into "donating" tens of millions of dollars to two dubious foundations she controlled.
The president has been named as a formal suspect in the corruption probe, making her the first sitting head of state to face a criminal probe while in office.