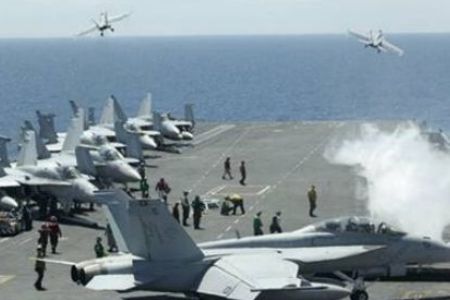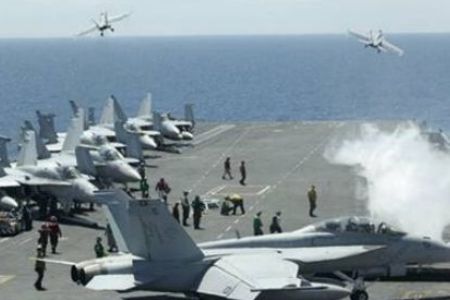 The US and South Korea have agreed to hold joint military exercises in the coming days amid growing tensions between North Korea and the South.
US President Barack Obama and his South Korean counterpart Lee Myung-bak made the decision after a meeting over Tuesday's deadly clashes between the two Koreas, Yonhap news agency reported on Wednesday.
The drill in the Yellow Sea will include the aircraft carrier, George Washington, the agency said.
On Tuesday, Seoul and Pyongyang exchanged artillery fire on the Yellow Sea border island of Yeonpyeong and each blamed the other side for starting the skirmish.
South Korea says it returned fire after North Korean forces shelled one of its islands. But the North says the South fired first. Two South Korean Marines were killed in the clashes.
Obama has already promised what he described as "unshakeable support" for Seoul, and called North Korea "a serious threat" that must be dealt with. However, he ruled out any US military intervention.
"The United States remains firmly and fully committed to the defense of its ally the Republic of Korea," he said.
Recently, the United States and South Korea have conducted several massive joint sea and air drills in waters east of the Korean Peninsula.