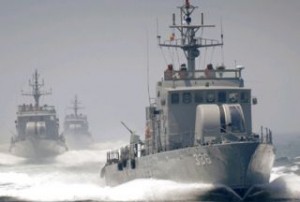 South Korea's President Lee Myung Bak has threatened strong measures against the North amid heightening tensions between Seoul and Pyongyang.
Lee said in a strongly worded televised address on Monday that Seoul was ready to take "self-defense" measures against that he termed as future North Korean Provocations.
"If our territorial waters, airspace or territory are militarily violated, we will immediately exercise our right of self-defense," Lee said.
The comments follow Seoul's claims that a North Korean torpedo sank a South Korean warship on March 26, a charge that Pyongyang has fiercely rejected.
The South Korean president says he will follow up the case at the UN Security Council. He also promised to cancel inter-Korean agreements.
Seoul says an international investigation team has found that North Korea was behind the incident that killed 46 sailors.
Pyongyang, however denies any involvement, warning that any retaliation by Seoul would lead to an open war.
Seoul has planned an anti-submarine exercise off the Korean peninsula in response to the warship incident. US military forces will join South Koreans in the war games.
Tensions between the two Koreas, which are technically still at war, remain high over the incident.