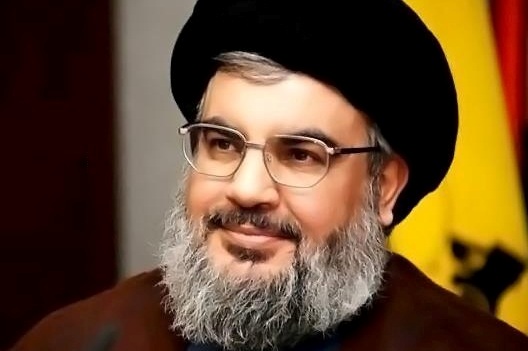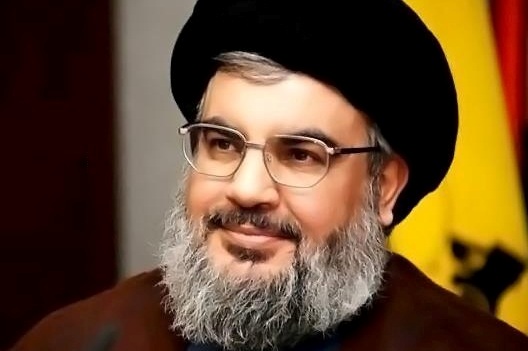 Hezbollah Secretary General Sayyed Hasan Nasrallah lauded on Monday the deployment of security forces in the southern suburbs of Beirut (Dahiyeh) as a positive step hoping the State would bear its responsibilities and duties towards all Lebanese regions.
Sayyed Nasrallah
In a televised speech broadcast at Al-Manar TV, Sayyed Nasrallah stressed that Hezbollah had contacted the state since the explosion took place in Dahiyeh, noting that the state said it needs time to carry out its responsibilities and not because we have failed, and the problems that happened were normal and anticipated when we endured responsibility for security .
Hezbollah S.G. said Hezbollah took serious responsibility since August 15 when Ruweis attack took place because of a security vacuum in the country and statements were issued rejecting autonomous security. "We also reject autonomous security and this has never been part of our agenda and we did not practice it and when we took security measures that was because we had to prevent the entry of booby-trapped cars."
"Some went on to accuse Hezbollah of practicing autonomous security as part of our 'statelet', but today's deployment refuted their claims because Hezbollah would have rejected this measure if their claims were true. We had asked the official bodies to take over the reins from the outset," His eminence said.
Sayyed Nasrallah called on all Dahiyeh residents and passers-by to show the highest levels of cooperation, respect, acceptance and responsiveness to the security measures and provide all the assistance and support needed to help the security forces perform their mission.
As he assured that the State is solely responsible and must definitely extend its authority in all regions, Sayyed Nasrallah hoped these security forces and state authorities will shoulder their full responsibility and assume all the intelligence and preventative missions as well. "Only the state is responsible for security in all regions and we will leave any point to which the state might send forces. Today it happened in Dahiyeh and tomorrow it might happen in Baalbek and we welcome any efforts that contribute to the success of the mission."
Some People feels Delighted with Killing of People in Dahiyeh
His eminence addressed some sides that condemned Hezbollah's measures in Dahiyeh, saying: "I feel that those people are delighted with the killing of people in Dahiyeh, Tripoli and elsewhere, it is regrettable that hostility reached to that level of thinking."
Ruweis attackSayyed Nasrallah thanked the Palestinian factions and especially the families of martyr Mohammad Samrawi over their noble stance on the regrettable incident in Burj al-Barajneh.
On the investigations after Ruweis attack took place, Sayyed Nasrallah said: "As promised, we reached decisive results concerning the perpetrators of Ruweis attack. It's a Takfiri party that is affiliated with the Syrian opposition and which is based the Syrian territories, and the same results were reached by local security apparatuses. All the details were passed on to the relevant authorities, which must take the necessary measures, especially against the perpetrators who are inside Lebanon."
Chemical Weapons Campaign against Hezbollah "Funny"
The S.G. denied accusations that the Syrian government handed chemical weapons to Hezbollah and said that this accusation is funny.
"The U.S. defense secretary said after reaching an agreement with Russia that chemical weapons should not be transferred to Hezbollah and on the next day some Syrian Coalition officials claimed that the Syrian government has transferred chemical arms to Hezbollah and some officials claimed that we have received a ton of chemical agents," his eminence said. "It's funny, it's not like transporting wheat or flour. Unfortunately, some parties in Lebanon launched a media campaign and said they fear that the chemical weapons might be transferred to Hezbollah," Sayyed Nasrallah noted, saying he understands the backgrounds of these serious accusations which have serious repercussions on Lebanon, and stressed that "Hezbollah did not ask our brothers in Syria to transfer such weapons and will not do in the future."
"Some friends advised me not to comment on these claims as part of psychological war against enemies, but I rejected that because Hezbollah has religious taboos with the use of such weapons and using this as psychological warfare is not an option," S. Nasrallah added.
Some Invented Mock Battle in Zahle
On the scuffle that erupted over claims Hezbollah was installing a telecom network in Zahle, Sayyed Nasrallah denied these claims saying Hezbollah has never sought to install such network in Zahle. "This does not exist today and will not exist in the future. The Bekaa and Baalbek are part of the battle with the enemy and we need to have communications with the Baalbek-Hermel region. Years ago, we extended a cable at the outskirts of the city of Zahle and not inside it, it's a cable for connecting lines. What happened few days ago was that Hezbollah young men were doing maintenance for the cable."
Unfortunately, the S.G. said, some parties were launching a mock battle to what happened in Zahle and were seeking stunts and illusionary heroism. "The head of one of March 14 parties said that Hezbollah's wired telecom network breaches the privacy of people. I hope that he asks any security official to explain to him about our network which is incapable of spying on anyone."
Let's Discuss Hezbollah Intervention in Syria
Concerning the national dialogue, Sayyed Nasrallah said Hezbollah supported Speaker Nabih Berri's initiative, "but we have heard calls for boycotting and setting conditions for dialogue. When the national dialogue table was held the other team disrupted it and required the resignation of Mikati in order to return to it and the government's resignation they did not return to dialogue."
He pointed out that Hezbollah will participate in the dialogue called for by the Lebanese President, and said: "Let's discuss the intervention in Syria, and who did so. Isn't it considered intervention the writing of speeches and statements urging [US President Barack] Obama to launch a military attack on Syria which if it had taken place would have serious repercussions on the world and especially Lebanon? We want to discuss on the table whichever is the most dangerous, appealing to Obama to intervene in Syria or what our young people are doing in Syria?" referring to former PM Fuad Saniora's op-ed published by the Foreign Policy magazine recently.
"Those who are obstructing dialogue in Lebanon are well-known and we are willing to participate in the dialogue regardless of who would take part or not."
Gov't Representation = Parties' Political Weight
On the issue of the delayed formation of the Lebanese government, Sayyed Nasrallah said that the interest of the country requires that March 14 stop stalling and form a national unity government based on real political weight of each party and urged them to stop betting on regional developments.
"Despite Lebanese consensus on the need to form a government, it has yet to be formed because from the first moment Tammam Salam was designated as PM, Al-Mustaqbal Party and some of its allies said they don't want the participation of Hezbollah in the government," S. Nasrallah said, noting "they said they accept the participation of Hezbollah on two conditions: no tripartite formula, no to the guaranteeing one-third. However, we set one condition overtly and clearly that each political party should be represented according to the size of its Deputies."
"We reject the three-8s (8-8-8) formula because it's unrealistic. The PM-designate is part of March 14 coalition and the minister whom he will nominate would be committed to his political decision, that means March 14 will have 10 ministers not 8."
Betting on Military Option in Syria Futile
Hezbollah leader said some Gulf states, especially Saudi Arabia, are insisting on accusing Hezbollah of occupying Syria and building on this to say that what is happening in Syria is not a conflict of countries, projects and nations, but rather a conflict against an "occupation force" which the Arab States should help to confront. And on such accusation they took retaliatory steps against Hezbollah. "In this context, March 14's Veto on the participation of Hezbollah is Saudi and punishing the Lebanese in the Gulf is under the title of punishing Hezbollah."
"Is it reasonable to believe that Hezbollah has the ability to occupy Syria!" his eminence wondered, announcing that Hezbollah's contribution with the Syrian army is modest. "Isn't Syria occupied by the tens of thousands of fighters you brought from all countries? And today the Syrian Coalition began to raise the voice against them." [Turkish President Abdullah] Gul was told that the Pakistani scenario will be repeated in Turkey because of its intervention in Syria, he said.
Sayyed Nasrallah called upon Saudi Arabia, Gulf States and Turkey to review their positions on what is happening in Syria, saying "betting on the military option in Syria is futile." "The salvation of Syria and the peoples of the region will be only with the political solution. The continuation of fighting in Syria will not lead to the goals you are looking for."
Criminalizing Hezbollah in Bahrain Political
Hezbollah, BahrainConcerning the Bahraini crisis, the Secretary General said Bahrain regime's insistence on criminalizing communicating with Hezbollah is a political position. "We are not surprised by the position of the Government of Bahrain in describing Hezbollah as terrorists. We supported the peaceful revolution in the Gulf country and then Manama expelled the Lebanese living there!"
While insuring that the decision of the Bahraini opposition is internal and independent, Sayyed Nasrallah said Iran does not interfere in the course of the situation in Bahrain, urging Muslim scholars and states to react to confront repression in Bahrain as mosques are being destroyed and clergy men are forced in prisons.