Latin America
Sacked GM Colombia workers stage demo against layoffs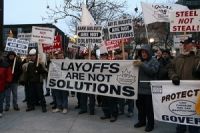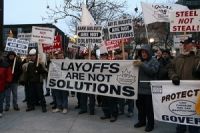 Sacked workers of the General Motors Company (GM) has staged a silent demonstration in the Colombian capital Bogota in protest at the American auto giant's unfair layoffs.
On Thursday, former Colombian employees of General Motors gathered outside the US embassy in Bogota with their mouths sewn shut to pressure the American automaker to compensate them for work-related injuries that left the workers unable to do their jobs, NY times reported.
During the gathering, Jorge Alberto Parra, the president of the Association of Injured Workers and Ex-Workers of General Motors Colmotores, lied buried on the sidewalk area near the US embassy in a show of protest against the company's policies.
GM Colombia usually sacks the workers who sustain debilitating injures while on the job in an attempt to avoid paying medical benefits.
The Thursday gathering is the latest of several similar demonstrations held since the company's plant executives began axing wounded employees in 2011.
Such protests are an effort to draw public attention to the plight of former GM Colombia employees and what the sacked staff describes as an inhumane move by the company's authorities.
However, three years into the layoffs, GM continues to deny that the former Colombian workers had been hurt on the job, claiming it already offered them a "generous" settlement during mediation two years ago.