Syria
Sadad is under the Army's control again, and al-Qalamoun's insurgents under fire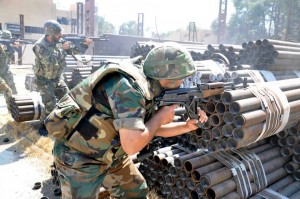 Breaking News Network- Exclusive
Sadad is under the Army's control again
Syrian Army has expelled militants from Sadad, which was infiltrated by them a week before.
Breaking News Network correspondent says that the Army killed and injured dozens of insurgents and those soldiers are conducting combing campaigns in the town's outskirts to purse the remnants of militants.
Al-Qalamoun's gunmen under the fire
Syrian Arab Army carried out a series of intensified operations against locations of armed men in al-Qalamoun area.
The Army also launched an accurate operation against the militias in Yabroud killing about 40 gunmen.
Breaking News Network reporter said that the Army destroyed a rank of vehicles of militants in Jebadeen town, adding that the Army also operated in Aliyeh farms killing dozens of them.
Mortar shells fired on al-Assad Suburb
4 mortar shells were fired by armed men on al-Assad Suburb of Damascus countryside and only material damage were recorded.
The Army protects Abu al-Zuhour
Units of "Abu al-Zuhour" Military airport along with the National Defense Forces confronted an armed attack carried out on the airport from many directions by a large number of armed men.
The reporter adds that the attackers sustained deaths and injuries and that two tanks used by them were destroyed.
http://breakingnews.sy/en/article/27889.html