Europe
North America
World News
Sadiq Khan steps up war of words with Trump, calls him 'poster boy' for racists
London Mayor Sadiq Khan has called Donald Trump a "poster boy for racists," after the US president renewed his attacks on the Muslim mayor, blaming him for a spate of attacks in the British capital.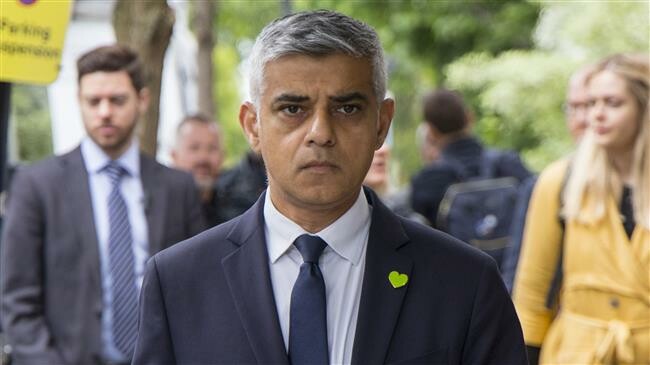 Trump called Khan a "disaster" who should be thrown out of office, while re-posting a Twitter message written by right-wing British columnist Katie Hopkins on a series of shootings and stabbings that killed four people in London over three days.
"LONDON needs a new mayor ASAP," Trump wrote. "Khan is a disaster – will only get worse!"
Third street murder reported in London in one dayPolice report a third murder on the streets of London in less than 24 hours.
The mayor responded to Trump on Monday, saying it was "remarkable that you've got the president of the USA amplifying the tweets of a far-right activist, amplifying a racist tweet."
Trump's emotional maturity halted at age 13 when his father sent him to military school. That's why he had the USS John McCain moved from sight and why he called London's Mayor Sadiq Khan a stone cold loser. He's an insecure snowflake who's still a dumb little brat.
"He's now a poster boy for the far-right movement and that should cause us huge concern," he added.
"It's for Donald Trump to answer the question why he's obsessed with me; it's for Donald Trump to answer the question why he amplifies the tweets of far-right activists, why he amplifies racist tweets," he said.
Responding to Trump, UK home secretary, Sajid Javid, said the US president should "stick to domestic politics."
[email protected], who by all accounts has done a terrible job as Mayor of London, has been foolishly "nasty" to the visiting President of the United States, by far the most important ally of the United Kingdom. He is a stone cold loser who should focus on crime in London, not me……
….Kahn reminds me very much of our very dumb and incompetent Mayor of NYC, de Blasio, who has also done a terrible job – only half his height. In any event, I look forward to being a great friend to the United Kingdom, and am looking very much forward to my visit. Landing now!
Khan, London's first Muslim mayor, has been attacked by Trump since some three years ago, when Khan criticized then-candidate Trump for his proposed plan to ban foreign Muslims from entering the US.
Earlier this month, Trump reignited feud with Khan immediately after landing in London for an official visit. He called Khan in a Twitter message, "a stone cold loser" who has "done a terrible job."