Featured
EXCLUSIVE- Sagi Chori,the Israeli General: "Mossad sent me to Kurdistan to help the Kurds"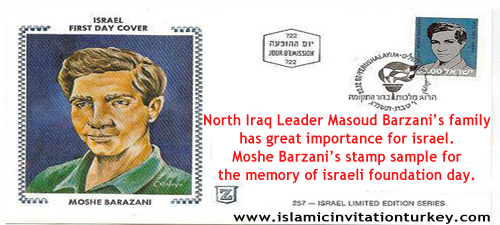 The original news is as the one below. We do not change any parts so that you can read from the original text that was taken from ekurd.net. The news shows the historical background of Zionism and their relations with the Jewish Zionists in the Kurdistan region. These Kurd Jewish are those who escaped from the Khaibar Battle of Imam Ali a.s.  Thats why they are also called Khaibari Kurds who have the same goal with zionist israel, 'The Promised Land' for all the Zionists. (Islamic Invitation Turkey)
"Mossad sent me to Kurdistan to help the Kurds":
July 13, 2011

ISRAEL, — In order to train the Kurd commanders I carried them to Israel by plane from our embassy"Sagi Chori, the Israeli General which planed the battles of Rwanduz, Zozk and Handren mountains spoke to Israel-Kurd.com.Now, he retired as a Mosad officer, but in early of 1966-67 came Kurdistan from Israel to help the Peshmarga and Kurd army against Iraqi army.He trained Peshmarga which was under threats of occupation army. As Chori mentioned, that time for Peshmarga just Bruno gun was available against am army which had the modern army equipment and the Iraqi soldiers were more too than Peshmarga.Then, Kurd should have just Israel and needed its support and cooperation, was it wrong? The relation wasn'‌t useful for Kurd? These questions had been discussed and answered with Sagi Chori who was one of Mala Mustafa Barzani closest friend.

Q: Let to know who Chori is and how about his life?

Chori: I was born in Israel; my father's origin is from Latvia (Russia) with mother from Poland. I was grown up nearby Natanyaye city in middle of Israel. In 1952 attended a parachutist officer course and been a commander in defense army. After that I get other military grades, Helping Kurd was one of my important tasks.

Q: For the first time when you went Kurdistan and what was your main purpose?

Chori: In 1966, the first year of Israeli helping to Kurd, then I was Mosad officer and they sent me to Kurdistan.

Q: You were alone or some one accompanied you in that trip?

Chori: I went alone, as arrived to Barzani office in Haji Omaran, Daived Cron the Mosad agent was there with another Israeli person who don‌t remember his name now.

Q: As reached Kurdistan you did what at first and who receipted you?

Chori: I was the guest of Mala Mustafa, Idris, Massoud Barzani, also the leadership members, but Mala Mustafa wasn'‌t there. As asked them about him, they said Barzani went to battle fronts in Penjwen. I said let start till Barzani will return; they agreed and get my aim directly. I didn't‌t know Kurdish or Arabic languages, but Cron translated my speech to Arabic and they were clever and we understood each other clearly.

Q: In you travel to Iran-Tehran how tried to help Kurd and did what?

Chori: As I reached Tehran, they asked me to attend a training course for Iranian officers to learn them the elementary skills of war to be able train the Kurds at the end, but Shah didn‌t accept. I asked to take Kurd commanders to Tehran to train them there, so they came and I started the course. The course wasn'‌t succeeding there, because Shah wasn‌'t interested in Kurds.

I asked our embassy in Iran to take these Kurd commanders to Israel and train theme there, it was accepted and I took them to Israel by plane. I put them in a hotel near Haifa and took to our military training daily.


From left to right SaqiChori, Mustafa Barzani and Idris Barzani, Iraqi Kurdistan 1966. Photo from: israelkurd.com
Saqi Chori. Photo: israelkurd.com
A letter from Mustafa Barzani to Chori, 1967. Photo: israelkurd.com

I lasted one month, the learnt good things and later went to Tehran and then Kurdistan.

Q

: Did you come back to Tehran with them?Chori: Yes, I came back with them; I prepared 20 soldiers for each commander to fight against Iraqi army, because the Kurds had just Bruno not more else, but Iraqi army had modern and heavy weapon.

Q

: After that you did what when the course finished?

Chori: After that, we prepared our self to defense attacking, as the snow season was over, we planed to attack and control Haji Omaran. I had good plan to teach them and advised the commanders, also I learnt some thing from them.

Q: About your defense forces, you had put them how and were you in battle fronts?

Chori: We had planned to defend behind Rwanduz, Zozk and Handren mountains. I participated in these battles. When the enemy attacked with a huge number of soldiers and equipment,www.ekurd.netthey didn't know how control the status. For the first time held the defense line in the front from those people which were clever and experienced in shooting gun. They were not much, but acted well and defended the enemy's attacks.

Q: How about place and amount of Iraqi army?

Chori: They were six parts in Ali-bag and Khalifan area and expected to be more than 10,000 soldiers. They were supported by tank and air forces and were trained and skillful. I was a parachute officer and knew that Iraqi army waited to spring to attack the mountains, so I prepared some groups to defend, especially that I had some information about Anti-Terror operations.

Q: As you met Barzani, you talked about what and he asked what?

Chori: I saw Barzani every day, I went to help them and Mosad advised me to help Kurds in order to be able fight against their enemy.

Q: As Barzani returned from Penjwen, how you talked about your last military plan?

Chori: When he returned, came and met Miki and me, I discussed the plan, but I wish all of the others thought as him, Barzani was leader in fact, the world finds a leader like him never, unfotuanlly now he isn't with us.

Q: After that Barzani accepted you plan, how you started the attacks?

Chori: According to the plan, when the Iraqis started to attack, we had prepared defend lines. They couldn‌t use air forces to control the mountains, some where even the ways were dangerous to Iraqi soldiers, Kurd is known to shooting, and they defended the area. I told them to wait when the soldiers reached front then shoot them. We were on the top of Handren and Zozk, told them don‌t shoot on the tanks, because our placed would be revealing. Kurds knew their area, so they had more chance to be succeeded. Iraqi armies were about 3,000 soldiers, I asked Malazm Yousif to command the battle, but unfortunately he was martyr.

Q: After those succeeding, what was your next plan, was Barzani satisfied with your activities?

Chori: Yes, Barzani was too satisfied with me, but he was uncomfortable with the killing of a great number of enemy's soldier. After the battle, the attacks on Kurdistan had been stopped, we were surprised. Later we knew that Abdul-Salam Aref burned in his plane and Abdul-Rahman (his brother) became the president, he asked Barzani to stop the conflict and go to negotiate. I told Barzani that beside your negotiation we will fight, but he said that how we can negotiate and fight at the same time.

Q: Was Iran helping Kurds to give military equipment?

Chori: Kurds had little equipment, told the Iranian where the equipment is, they said that we sent to Penjwen, it seemed to neglect their promise to help Kurd and didn‌t like to help Kurd, they told me that finish your affairs and return your country.

Q: How you were in contact with the Kurdish leadership and country officials?

Chori: I had a friend which worked in Motorolla Company, I asked him to tell me which communication instruments are more useful, and He introduced me an instrument which was useful and could cover 40 k.m.

I wrote a report to Mosad and advised them to buy such instruments, the bought a number of these instruments and I presented them to Idris Barzani and he gave the commanders in front of the battle, they were too useful and Iraqi government didn‌t know it soon.

From Israel told me to return, but I said that I should complete and finish my plans to Barzani then come back, when we controlled the Garoui Omar Agha.

Q: Were the fourth part of Iraqi army in Kurdistan, you did what with Masoud Barzani and what was the role of Miki?

Chori: Miki and Masoud Barzani instituted Parastn Security department. The army was too active and I suggested attacking the forth part of them which were in Handren Mountain. Most of them were killed, as the equipment reached us from Iran, Barzani said "it was too much killed people, I am not satisfied with such killing, I know that they are obligated to be sent to battles, I don‌t like fight with Arab, I am against the Iraqi government system.

Q: By the ending of the war how you returned to Israel and why came back Kurdistan again?

Chori: At the end of May 1966 I returned to Israel, attended a training course in USA for one year, and then came back to Kurdistan before Kurdistan battle in 1967. Barzani sent me letter when I was in Ramata-Goulan. I safe this letter and am honored that a great Kurd leader wrote me a letter by his hand writing. Before go to Korek mountain I suggest to attack the Iraqi army, but Barzani mentioned that we can not hold talk and battle in the same time, but I said to him you fight with them and we (me with Masoud and Idris Barzani) try to negotiate with them but he refused.

Q: When you returned Kurdistan by Barzani's invite?

Chori: I was in Ramat Gulan when Mossad chief called me and said that Barzani said "send me Chori". So I prepared my self when the attacks against Kurdistan were started in 1974. As reached Barzani he said that enemy attacked us and should do some thing. We planed and could break enemy's battles. Unfortunately, Iran and some Arab countries treaty the movement had been suspended. Regard to Barzani who actually was a famous man and rare leader in the world.

Q: Are there some other things to Israel-Kurd magazine reader?

Chori: I have regard to Israel-Kurd magazine staff and wish them the best. My last hope is to see Masoud Barzani for once again; he is a good leader for Kurd and Iraq in this stage really. Also, Dr. Mahmoud Osman, I saw him too much and hope the best health for him.