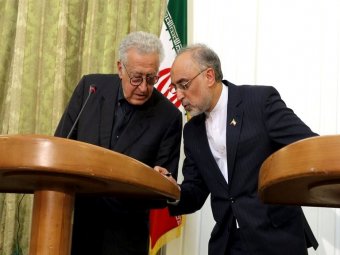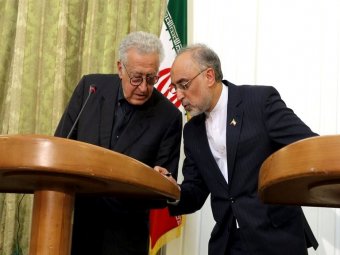 Iranian Foreign Minister Ali Akbar Salehi said that his country's call for resolving the crisis in Syria via peaceful means.
Salehi hopes that UN Envoy to Syria Lakhdar Brahimi will be able to cooperate with regional and other influential countries and carry out his task of finding a peaceful solution and ending the crisis by the Syrians themselves.
In a joint press conference with Brahimi held on Sunday in Tehran, Salehi said that the Syrian government has repeatedly showed willingness to realize the demands of its people and took the necessary steps in this regard.
He said that Iran's viewpoint regarding the crisis in Syria matches Brahimi's in that violence and killing must stop before any other step.
He added "unfortunately, every day passes and a number of innocents are killed in Syria, which isn't in the interest of Syria neither the region nor the Islamic nation or the international community."
Salehi said that the faster the crisis in Syria is resolved, the better, adding that Iran is prepared to cooperate fully with Brahimi to find a suitable solution.
He noted that the UN has specific qualities and ideas, and that the responsibilities shouldered by Brahimi place him in a neutral and non-biased position, stressing that non-bias may be questioned but Brhaimi represents a neutral side and can take effective steps.
Salehi also pointed out to the suggestion Iran presented during the ministerial committee meeting in New York, stressing that any other ideas will be within the agenda of resolving the crisis.
He concluded by saying that Brahimi is working hard to bring differing opinions closer together, hoping that he will be able to present a suggestion that resolves the crisis in Syria in the future.
For his part, Brahimi said that the UN is fully aware of the critical nature of the situation in Syria and the need to resolve it quickly, noting that UN Secretary-General Ban Ki-moon calls for the cessation of violence every day.
He said that Ki-moon calls on daily basis for stopping the flow of weapons to all sides in Syria and pressing all influential countries to call for an end to violence and seeking peaceful solutions to the real issues.
Brahimi stressed the need to resolve these real issues in peaceful ways, affirming that the UN is ready to offer help to bring viewpoints closer and help the Syrians resolve their problems.
He said that he's looking forward to continuing talks with Iran along with other countries in the region that affect what is happening in Syria and are affected by it, thanking Iran for the document it presented in New York.
Brahimi concluded by hoping that all these ideas would unite in a single project that ends the suffering of the Syrian people and resolves the crisis properly in a manner that serves the interests of the Syrians.