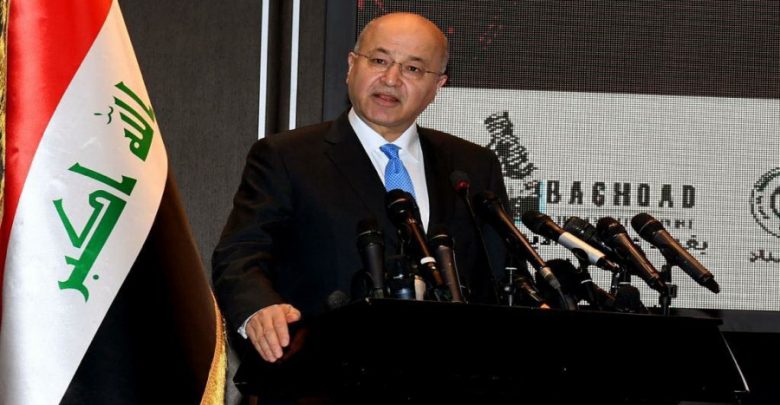 Iraqi President Barham Salih stressed that Baghdad will by no means accompany United States' unilateral sanctions against the Islamic Republic of Iran.
On Washington's unilateral sanctions against Iran, President Salih emphasized at a news conference with a number of Iranian journalists on Sunday on the eve of Iranian President's visit to Iraq, 'I must say that Iraq will not be part of the unilateral US sanctions regime against Iran. There is no doubt that we will be affected by these sanctions, but will certainly not be part of it. Iraq insists on the interests of the Iranian people of friendly our neighbor to be secured. We will do our best and use whatever we can to reduce the level of tensions in this regard and turbulences against the Iranian nation are decreased.'
The high-ranking official went on to say, 'We and Iran share a long common border of about 1,400 kilometers, and we have common cultural, social, historical and religious ties. The two countries have many common interests. Political interests come and go, but the historical, social, and cultural principles and our common interests require thinking of longer and deeper relationships with each other."
"We will talk about borders that are long and other cultural and political commonalities. We will also discuss economic relations and the existing commonalities between the two countries and the two nations. Iraq wants to help the Iranian nation reduce the problems they are facing duo to sanctions. Iraq and the region will be affected by these sanctions, but we are trying to reduce the harassment of the Iranian people in this area, based on the existing data", he noted.
A journalist asked that 'Iran, when Iraq faced difficulties, accompanied Baghdad in the fight against terrorism, Iran is now in difficulty, what is Iraq's plan to help Iran?' the Iraqi President responded, 'In Tehran, I said that Iran stood by the Iraqi people to fight the dictatorship of Saddam Hussein and the tyranny, many Iraqis came to Iran, and Iran welcomed them openly."
"Iran stood by us in the fight against the ISIS in the past, and we cannot say anything, but praise Iran. They really stood by us on difficult days. About how we can help Iran, part of it comes back to the issue that we can demonstrate an important and concise response to these sanctions. We are two countries that have very deep cultural, social, and historical parallels. So why do we not sympathize with the Iranian people? It is a fact that is in the best interest of all to reduce the tensions in the region. These tensions do not help the region or Iraq,' he reiterated.
The high-ranking Iraqi official said, "Iraq is part of this region and our relationship with Iran is really important. We have very important relations with Turkey. Our relationships with the Arab nations are also very important. This is our geopolitics and it can be in favor of not only Iraq, but also the entire region. We say that in the past, Iraq has been an area for regional political confrontations, but now we want Iraq to be an area for regional agreements."
"Therefore, Iraq should not be the place for any hostile action against any of its neighboring countries. Our constitution does not give us such permission and our interests will not allow us. Our relations with neighboring countries can help reduce tensions in the region. Our relationship with the US and Europe is also important to us,' Salih highlighted.